Riley Stenjem and Zack Riddle Best of the Late Models at Madison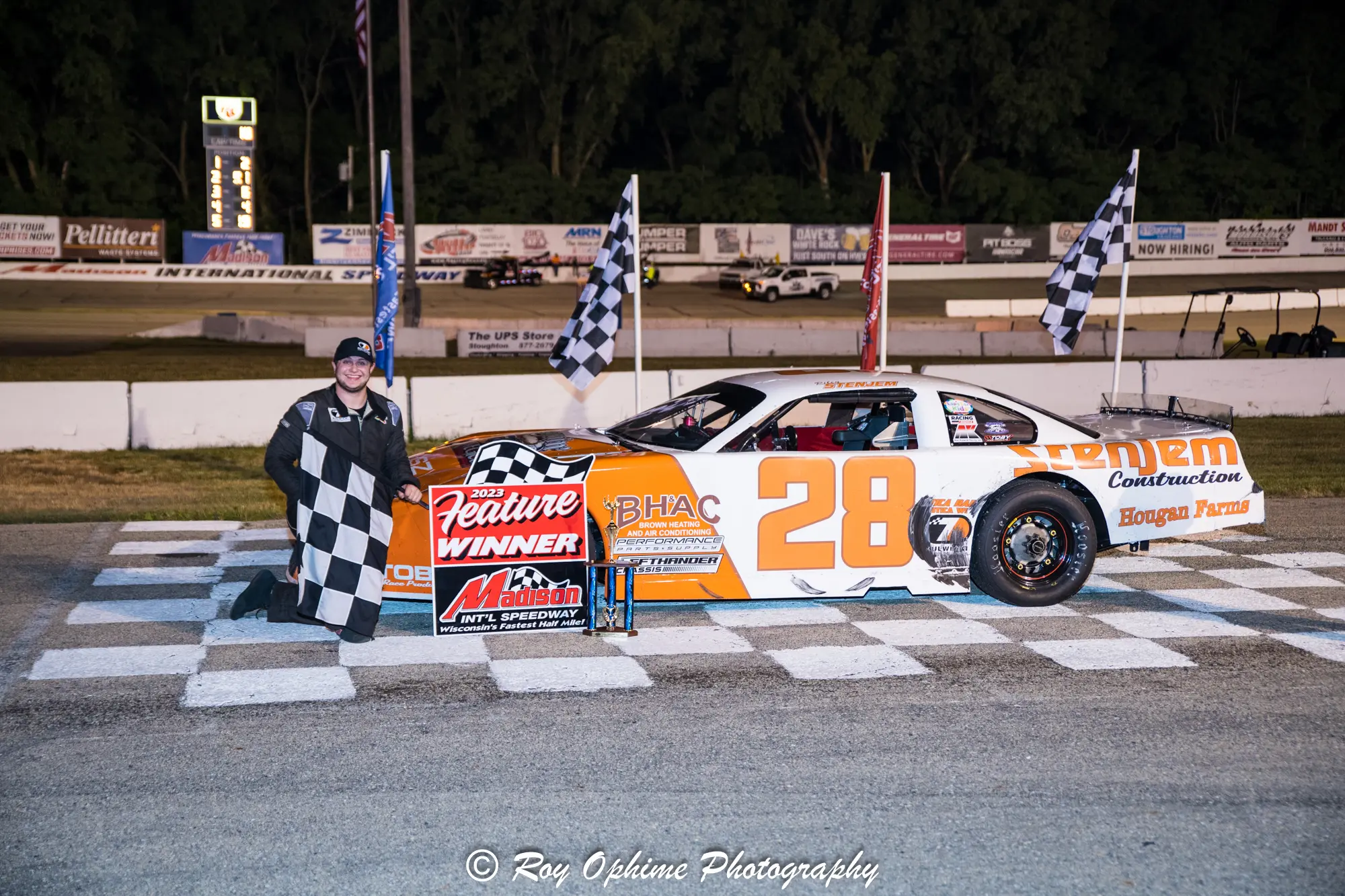 Six Other Drivers Also Pick Up Wins
Oregon, WI (June 16, 2023) A great crowd was on hand to celebrate Pellitteri Waste Systems Kids' Night with double features in four divisions highlighting the racing action. In the end, eight different drivers took home wins with Riley Stenjem and Zack Riddle getting Late Model victories along with Dan Snyder and Dave Edwards in the Dave's White Rock MISfitz, Robert McKeown and Trevor Chilson in the Roto Rooter 6Shooters, and Mitchell Berg and Kennedy Krueger in the HSRA who also went home winners.
Hundreds of young fans made their way to the track during intermission for the $1000 coin scramble presented by One Community Bank.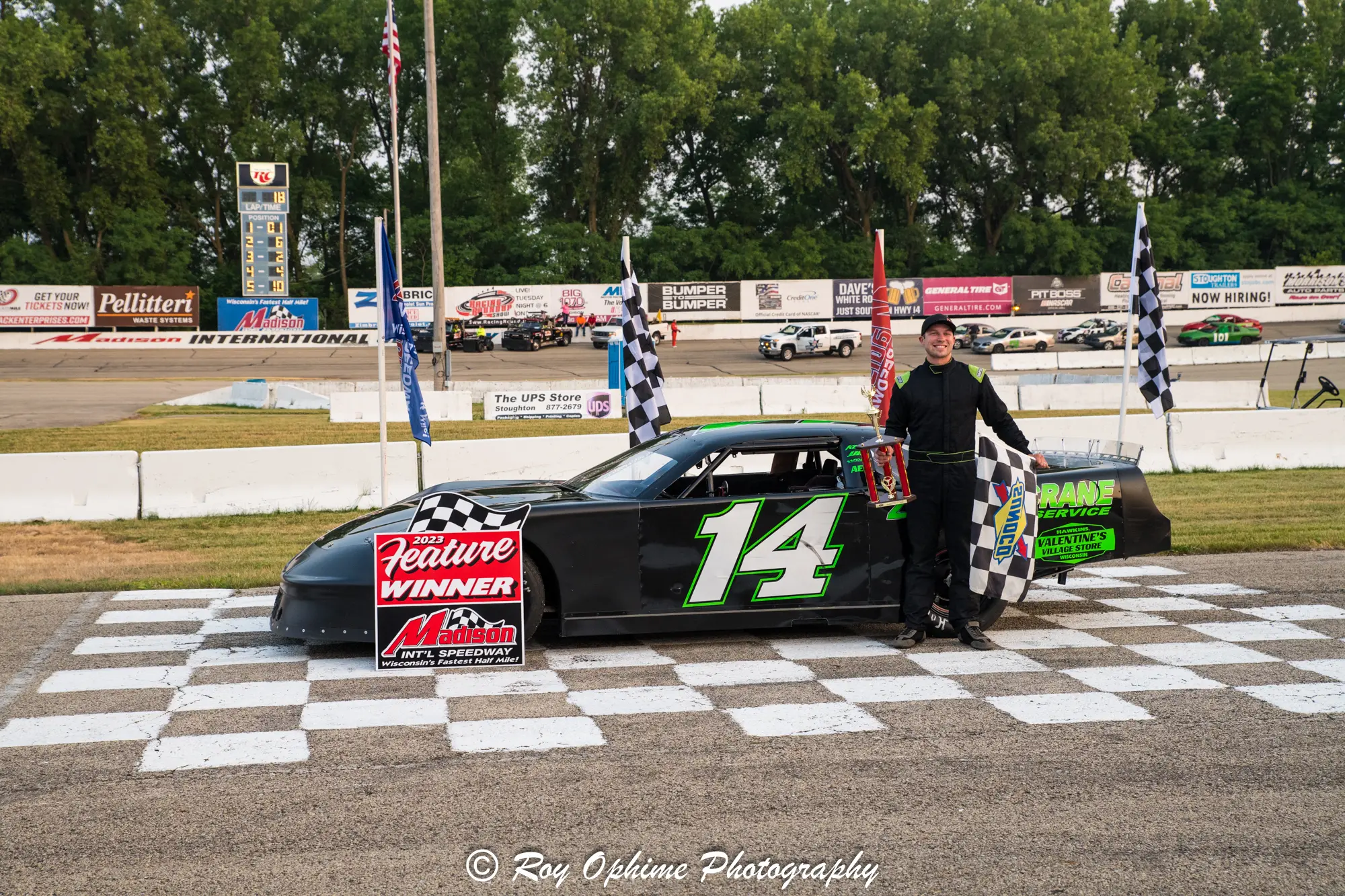 Zack Riddle and Riley Stenjem Capture the Checkered Flag
Riddle won the first 30 lap feature for the Late Models. It was his third straight to start the 2023 season and his 31st career feature win in the division tying him with Dave Phillips for second on the all-time list.
Steve Lichtfeld and Morgan Schissel had the honors of bringing the field to the green flag. From the outside, Schissel took the early lead over Lichtfeld while Brent Edmunds and Shaun Scheel raced side by side for third. Edmunds took the third spot on lap 3 with Wilberg up to fourth and one lap later passed Edmunds for third. On lap 5 Wilberg moved into second with Will Rece up to third on lap 7 and Zack Riddle to fourth. Riddle powered his way past Rece for third on lap 10. Out front Schissel continued to hold a four car length lead over Wilberg followed by Riddle, Rece, and Dale Nottestad. On lap 12 Wilberg had closed the gap to a car length and on lap 13 took the lead from Schissel with Riddle applying heavy pressure on Schissel for second. On lap 16 Riddle moved by Schissel for second and started to hunt down the leader. On lap 19 Rece took the third spot.
With nine laps to go Wilberg's lead was down to less than a half car length and with seven laps to go Riddle was able to move to the inside of Wilberg to take the lead coming out of turn four. From there it was all Riddle who led the rest of the way to pick up the checkered flag. Rounding out the top five were Wilberg, Rece, Nottestad, and Riley Stenjem.
"This is a new car for us this year. We never thought we'd had it figured out this quick," said Riddle.
Stenjem went wire to wire to win the second 30 lap feature for the Late Models.
The field came to green led by Shaun Scheel and Riley Stenjem. The top six raced in a pack for the first two laps before Stenjem grabbed the advantage with Rece up to second and Nottestad in third after four laps. As Rece and Nottestad raced side by side it allowed Stenjem to step away from the pack and open a ten car length lead on lap 7. Riddle and Wilberg battled it out for fourth with Riddle claming the position on lap 10. On lap 12 Riddle passed Nottestad for third and was quickly gaining ground on Rece.
At the half-way point, Stenjem had built up a lead of almost three seconds. Rece continued to hold off Riddle until lap 19 when Riddle moved by him on the inside going into turn three. But out front Stenjem continued to show the way with Riddle and Rece in pursuit. With three to go, Rece was applying heavy pressure on Riddle which allowed Stenjem to increase his lead out front. From this point it was all Stenjem who picked up the checkered flag followed by Riddle, Rece, Wilberg, and Nottestad. It was Stenjem's first-ever Late Model win at Madison and his second career win here after picking up a Legends win a few years ago.
"We've kind of run off and on and Madison over the years so we're committed to running here this year. It's pretty cool winning on the half-mile," said Stenjem who is piloting an Alan Kulwicki tribute car this season.
Multi-time track champion Dale Nottestad was fast qualifier with a lap of 18.711 (96.200 mph).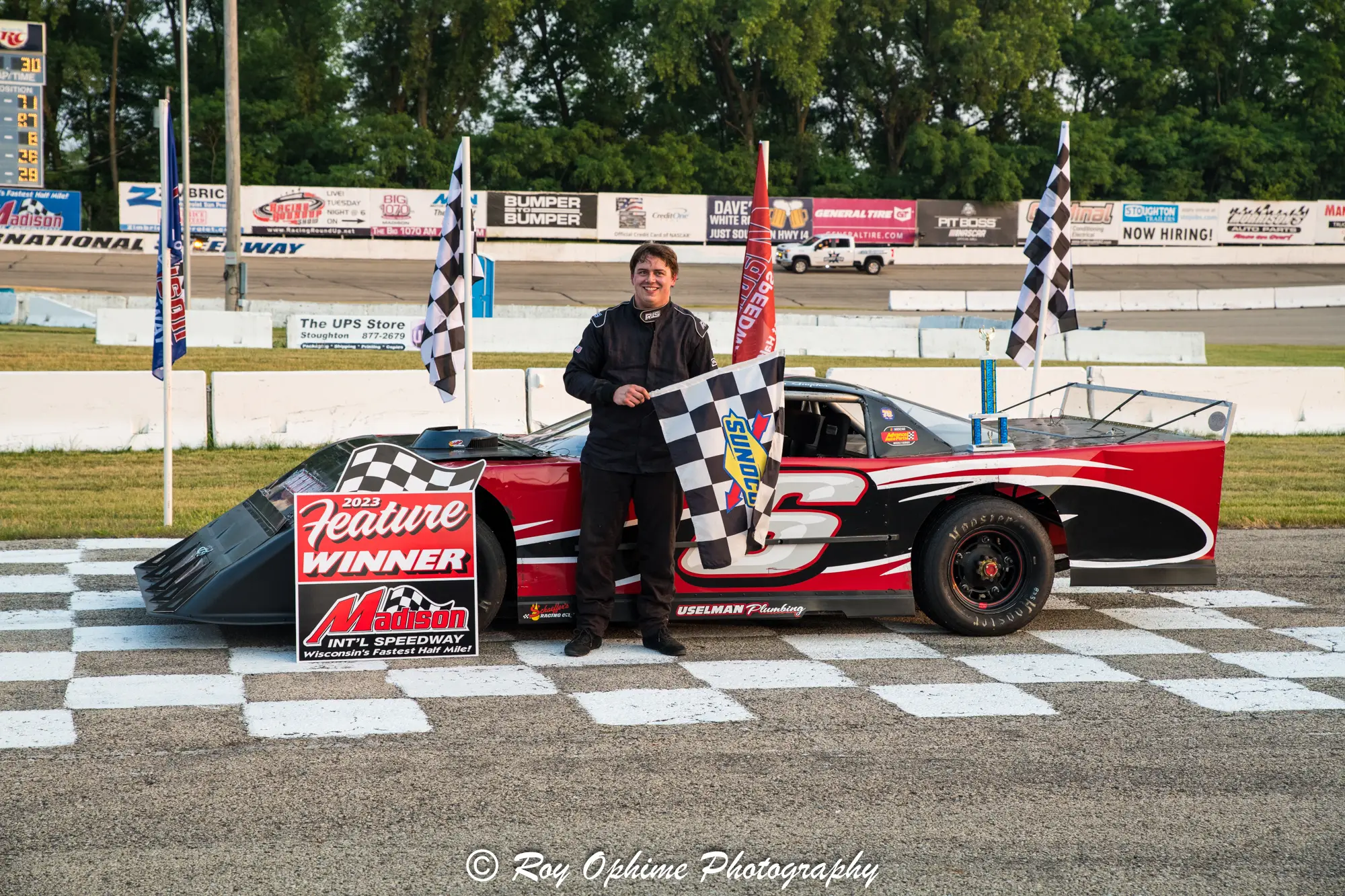 MISfitz Wins Go to Dan Snyder and Dave Edwards
Dan Snyder won the first 20 lap feature for the Dave's White Rock MISfitz.
Justin Sellers and Chris Wangrow brought the field to the green flag with Sellers and his 1992 Camaro jumping out to the lead. On lap 4 Sellers Ray Hellenbrand, who was up to second, broke out for the second lap and saw his night end early. Four laps later Sellers would also break out for the second time with Mason Hellenbrand going under the twenty second mark on lap 9 seeing his night end as well. This put Dan Snyder and Chris Wangrow out front with Dave Edwards in pursuit. With five laps to go Snyder had opened up a five car length lead over Wangrow and Edwards who were battling it out for second. Snyder would travel on and pick up the win with Wangrow edging Edwards for second.
In victory lane for the first time in the MISfitz division, Snyder said, "These things are a blast to drive. I finally got to win one on the half-mile."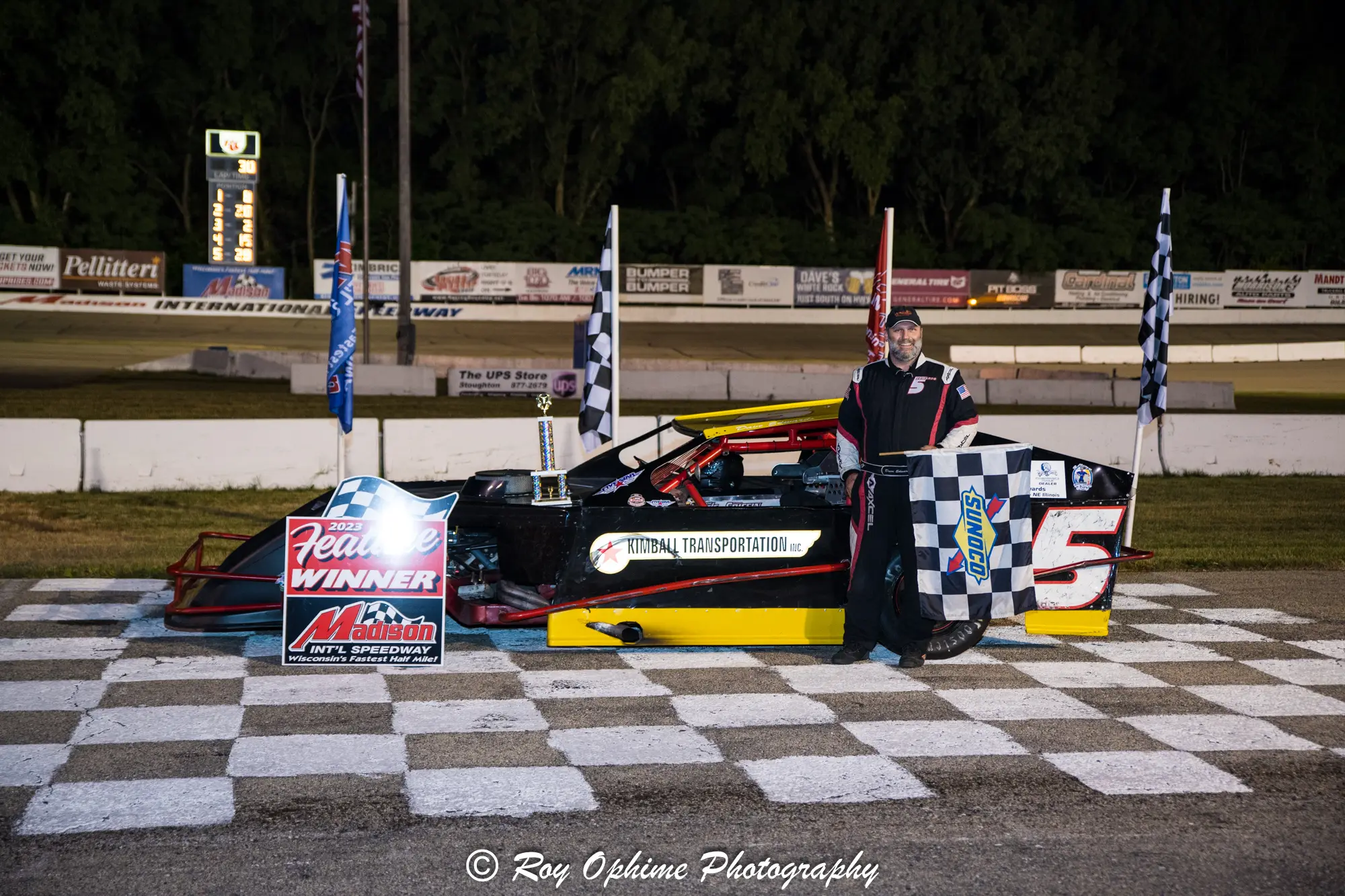 Dave Edwards won the second 20 lap feature for the Dave's White Rock MISfitz.
The second feature had Brian Uhlrich and Edwards bringing the field to the checkered flag. Edwards wasted no time getting out to the lead with Snyder up to second. On lap five Mason Hellenbrand pulled to the inside of Snyder and the two battled it out side by side while Edwards was increasing his lead to 0.5 seconds. A stalled car on lap 8 brought out the caution flag just as Mason Hellenbrand was moving into second place ahead of Snyder.
Edwards led the field back to the green flag. On lap 10 Mason Hellenbrand took over the second spot from Snyder and started to go after Edwards. Edwards continued to hold the top spot as Mason Hellenbrand, Snyder, and Sellers were all within striking distance. With one final trip around the speedway is was a battle between Edwards and Mason Hellenbrand with Edwards winning by 0.043 seconds in the speedway's closest finish of the season.
"Wow that was exciting. That was really close," said Edwards who picked up his second feature win of the season and sixth all-time in the division.
Mason Hellenbrand set a new track record in qualifying (closest time to 20.000) with a lap of 20.010 (89.955 mph)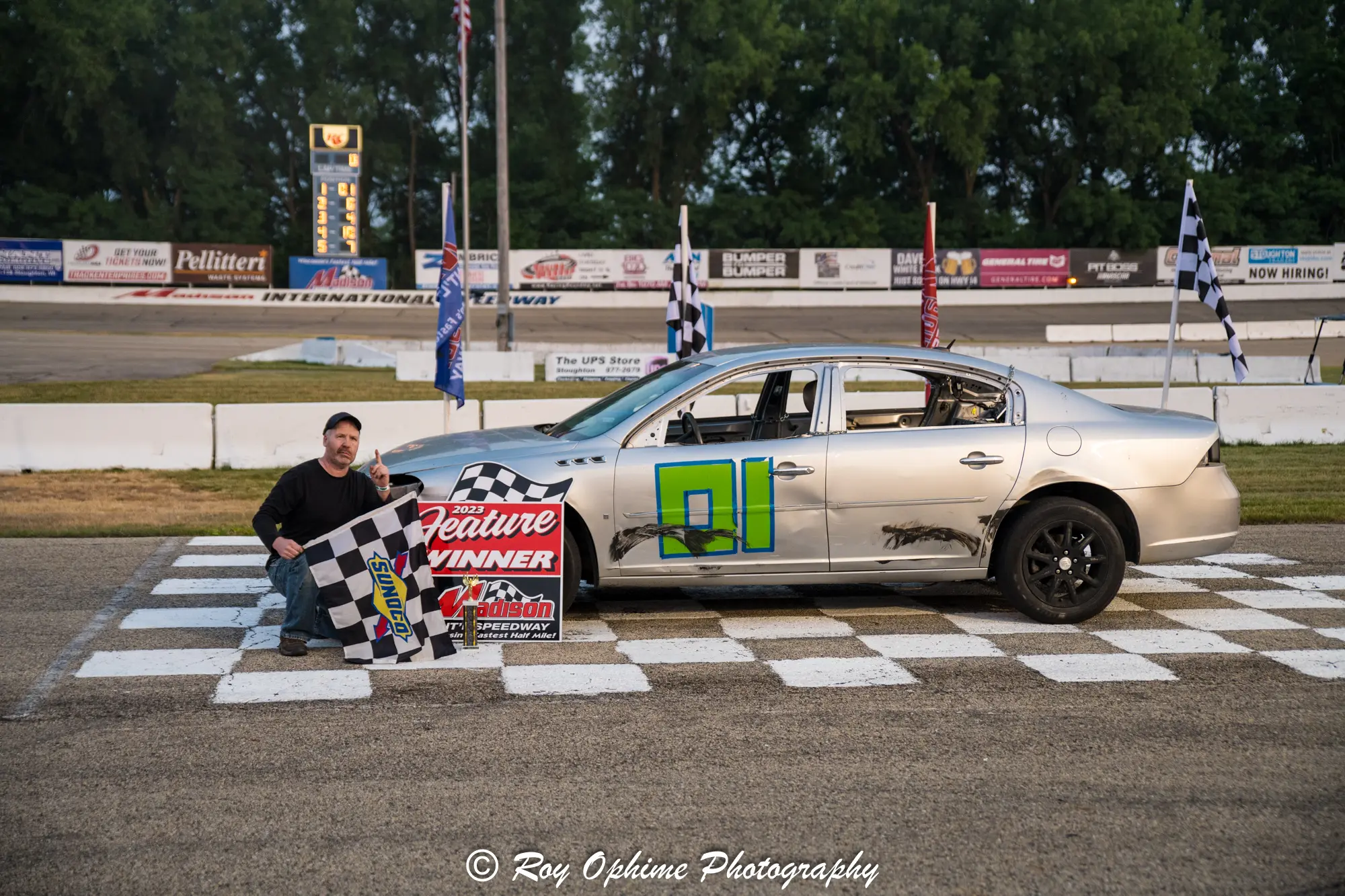 Robert McKeown and Trevor Chilson 6Shooter Winners
Robert McKeown won the first 18 lap feature for the Roto Rooter 6Shooters earning him his first career victory at Madison.
McKeown and Dary Schulz paced the field to the green flag. McKeown took the early lead with Trevor Chilson quickly working his way up to second. But in the 6Shooters it doesn't take long to catch up to the tail end of the field and that's exactly what happened after four laps. Ken Morris took the second spot from Chilson on lap 14. It looked like smooth sailing for the leader until the final turn of the final lap when he made contact with a spinning car, but was still able to make his way to victory lane.
"This is great," said McKeown from victory lane.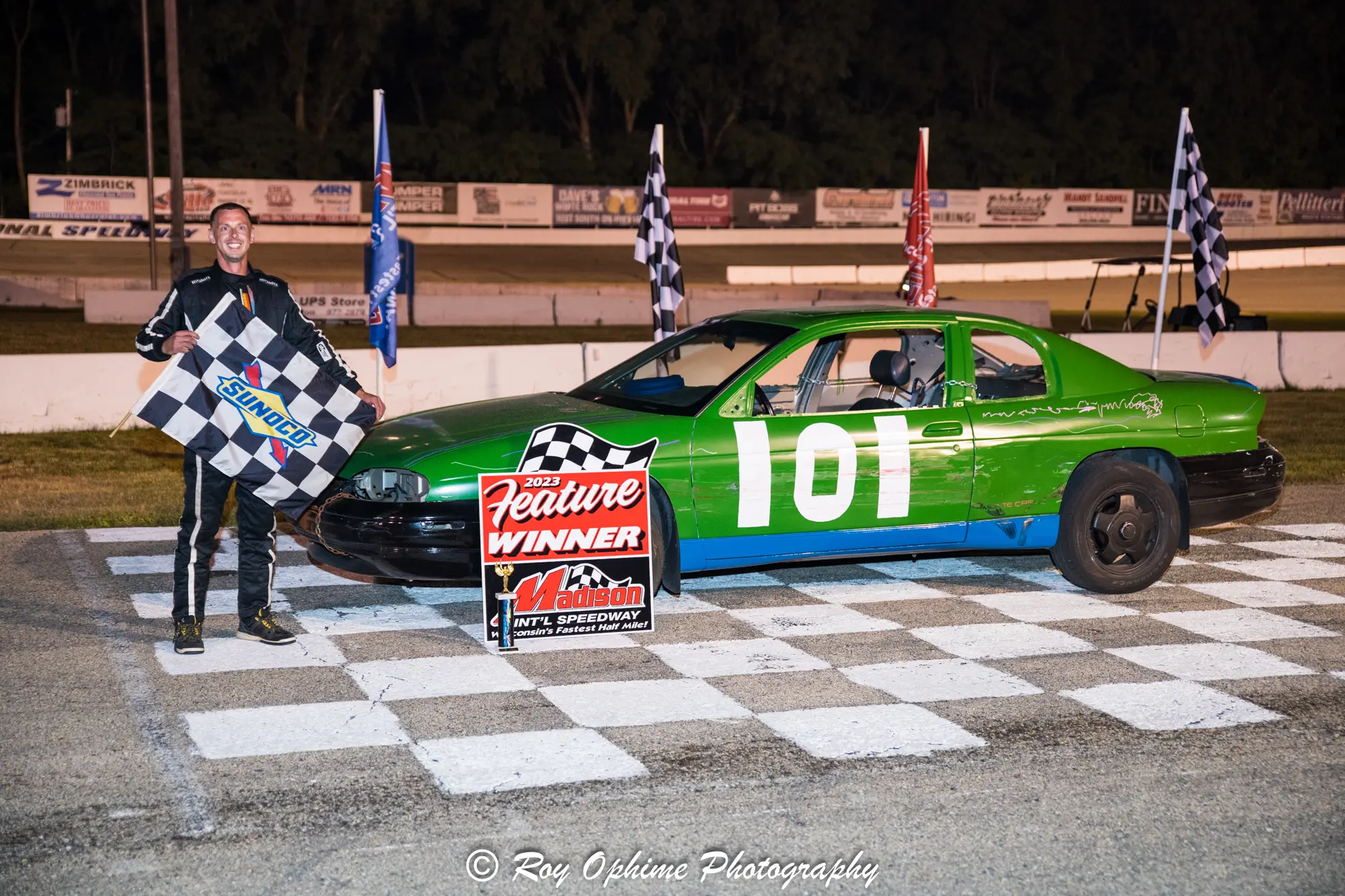 Trevor Chilson won the second crazy and wild 18 lap feature for the Roto Rooter 6Shooters proving there's never a dull moment on the Ring of Fire.
After the first start was waved off, Todd Klinger and Chad Koenecke brought the twenty car field to the green flag. Koenecke stepped out to the early lead with Rick Buss and Nicholas Miller in second and third. Chilson and Josh Morris were up to fourth and fifth by lap 5. Koenecke continued to show the way with ten laps to go, but things were going to get interesting very fast. The action got fierce on lap 11 with Koenecke losing the lead as he spun along with other cars which eventually resulted in Chilson taking the top spot. From there he started working his way inside and outside of lapped traffic while keeping the rest of the field at bay.. Chilson was able to survive the final laps and pick up his first win of the season.
"It's a blast. It's a lot of fun. Good last couple of laps for us," said Chilson.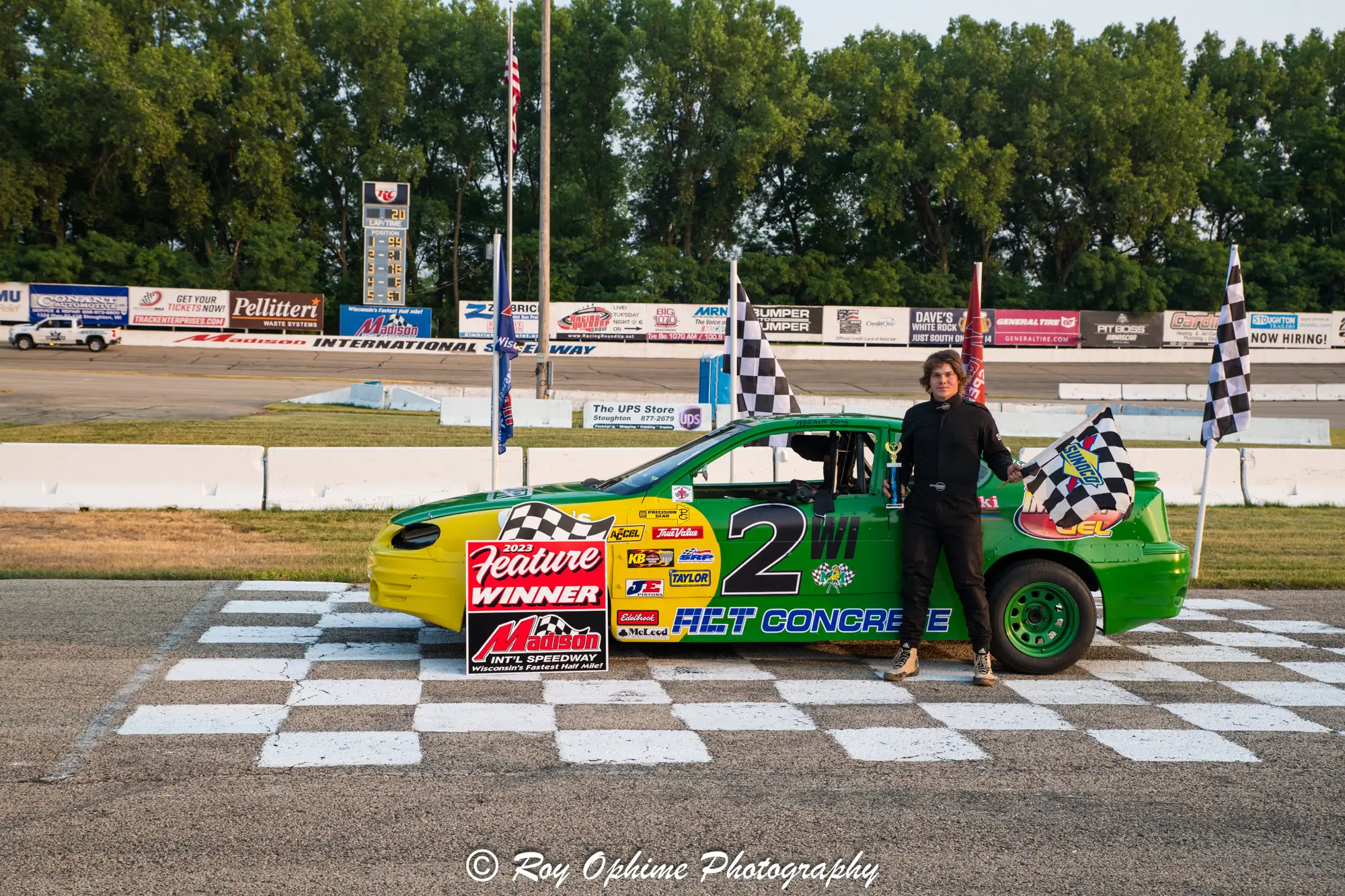 Mitchell Berg and Kennedy Krueger Pick Up HSRA Wins
Mitchell Berg won the first 15 feature for the High School Racing Association (HSRA).
Kennedy Krueger and Jackson Martindale brought the high schoolers to the green flag. Krueger took the early lead over Martindale and led for the first five laps before getting loose coming out of turn four and giving the lead to Martindale. On lap 8 Mitchell Berg passed Krueger for the second spot and began reeling in Martindale. With three laps to go, Berg pulled to the inside of Martindale and the two raced side by side with Berg taking the lead one lap later and continued on his way to victory lane.
"It feels great to be back here," said Berg who was representing Melrose Mindoro High School. It was his fourth career win at Madison.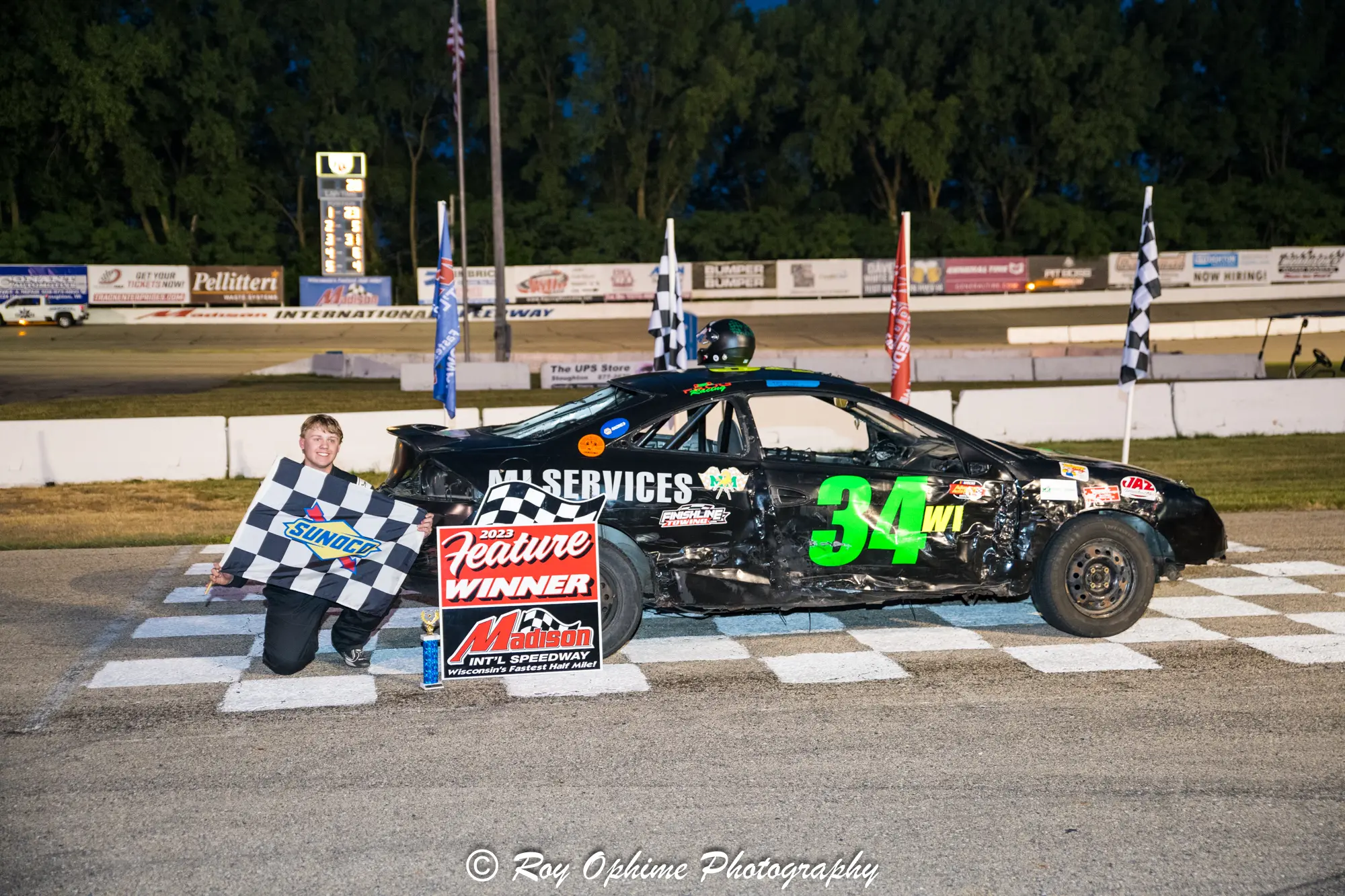 Kennedy Krueger won the second 15 lap feature for the High School Racing Association and picked up his first-ever win at Madison.
Krueger and Deagen Smith showed the way to the green flag with Krueger holding a slight advantage on the inside. It didn't take long for Berg to join the pair out front as the three raced together lap after lap. At the half-way mark Berg took over the second position with Krueger still holding a two car length lead out front. Krueger continued to maintain a slight lead and it held up all the way to the checkered flag as he made the more than two hour trip to Oregon well worth it tonight.
"It just feels good to get the monkey off our back and get a win," said Krueger who also represents Melrose Mindoro High School.
Next Friday night is our annual Salute to America Night at Madison featuring the area's biggest and best aerial and ground fireworks display plus the USAC Silver Crown Series competing in the Bytec Inc. Dairyland 100 along with the Late Models and MISfitz. Save money and be sure to order your tickets early. More information available at misracing.com.
Results
Late Models Qualifying
1. 2DN-Dale Nottestad, 18.7110; 2. 14ZR-Zack Riddle, 18.7120; 3. 15WR-William Rece, 18.7840; 4. 28RS-Riley Stenjem, 18.7960; 5. 28BW-Bobby Wilberg, 18.8140; 6. 8SS-Shaun Scheel, 18.8210; 7. 87BE-Brent Edmunds, 18.9560; 8. 71MS-Morgan Schissel, 19.0220; 9. 32SL-Steven Lichtfeld, 19.1470; 10. 19RO-Ronald Osborne, 19.1470; 11. 4SS-Stephen Scheel, 19.1490; 12. 19MH-Michael Haggar, 19.3990; 13. 32PD-Paul Dygon, 20.2770
Late Models – Feature 1 30 Laps
1. 14ZR-Zack Riddle , Brooklyn, WI[8], 2. 28BW-Bobby Wilberg , Beloit, WI[4], 3. 15WR-William Rece , Stoughton, WI[6], 4. 2DN-Dale Nottestad , Cambridge, WI[7], 5. 28RS-Riley Stenjem , Stoughton, WI[5], 6. 8SS-Shaun Scheel , Lake Mills, WI[3], 7. 71MS-Morgan Schissel , Rio, WI[1], 8. 87BE-Brent Edmunds , Brodhead, WI[2], 9. 4SS-Stephen Scheel , Lake Mills, WI[11], 10. 32SL-Steven Lichtfeld , Pardeeville, WI[9], 11. 19RO-Ronald Osborne , Fitchburg, WI[10], 12. 32PD-Paul Dygon , Wind Lake, WI[13], 13. 19MH-Michael Haggar , Hanover, MN[12]
Late Models – Feature 2 30 Laps
1. 28RS-Riley Stenjem , Stoughton, WI[2], 2. 14ZR-Zack Riddle , Brooklyn, WI[6], 3. 15WR-William Rece , Stoughton, WI[4], 4. 28BW-Bobby Wilberg , Beloit, WI[5], 5. 2DN-Dale Nottestad , Cambridge, WI[3], 6. 8SS-Shaun Scheel , Lake Mills, WI[1], 7. 87BE-Brent Edmunds , Brodhead, WI[8], 8. 71MS-Morgan Schissel , Rio, WI[7], 9. 4SS-Stephen Scheel , Lake Mills, WI[9], 10. 19RO-Ronald Osborne , Fitchburg, WI[11], 11. 32SL-Steven Lichtfeld , Pardeeville, WI[10], 12. 32PD-Paul Dygon , Wind Lake, WI[12], 13. 19MH-Michael Haggar , Hanover, MN[13]
Dave's White Rock MISfitz Qualifying
1. 67MH-Mason Hellenbrand, 20.0100; 2. 6DS-Dan Snyder, 20.1030; 3. 78RH-Ray Hellenbrand, 20.1890; 4. 5DE-David Edwards, 20.1990; 5. 31CW-Chris Wangrow, 20.2220; 6. 99JS-Justin Sellers, 20.2500; 7. 4MT-Mike Taylor, 20.2800; 8. 84TW-Tim Wondrash, 20.3110; 9. 23BU-Brian Ulrich, 20.3420
MISfitz – Feature 1 20 Laps
1. 6DS-Dan Snyder , Stoughton, WI[4], 2. 31CW-Chris Wangrow , Avalon, WI[2], 3. 5DE-David Edwards , Salem, WI[6], 4. 23BU-Brian Ulrich , Racine, WI[9], 5. 84TW-Tim Wondrash , Brooklyn, WI[8], 6. 4MT-Mike Taylor , Stoughhton, WI[7], 7. 67MH-Mason Hellenbrand , Verona, WI[5], 8. 78RH-Ray Hellenbrand , Verona, WI[3], 9. 99JS-Justin Sellers , South Elgin, IL[1]
MISfitz – Feature 2 20 Laps
1. 5DE-David Edwards , Salem, WI[2], 2. 67MH-Mason Hellenbrand , Verona, WI[6], 3. 6DS-Dan Snyder , Stoughton, WI[4], 4. 99JS-Justin Sellers , South Elgin, IL[8], 5. 23BU-Brian Ulrich , Racine, WI[1], 6. 4MT-Mike Taylor , Stoughhton, WI[5], 7. 78RH-Ray Hellenbrand , Verona, WI[7], 8. 31CW-Chris Wangrow , Avalon, WI[3], 9. 84TW-Tim Wondrash , Brooklyn, WI[9]
HSRA – Feature 1 15 Laps
1. 2MB-Mitchell Berg , Mindoro, WI[4], 2. 13JM-Jackson Martindale , Stillman Valley, IL[2], 3. 8DS-Deagen Smith , Rockton, IL[3], 4. 34KK-Kennedy Krueger , Sparta, WI[1]
HSRA – Feature 2 15 Laps
1. 34KK-Kennedy Krueger , Sparta, WI[1], 2. 2MB-Mitchell Berg , Mindoro, WI[4], 3. 8DS-Deagen Smith , Rockton, IL[2], 4. 13JM-Jackson Martindale , Stillman Valley, IL[3]
Roto Rooter 6Shooters – Feature 1 18 Laps
1. 01BM-Robert McKeown , McFarland, WI[1], 2. XJVH-Jason VanHise , Roscoe, IL[12], 3. 101TC-Trevor Chilson , Middleton, WI[5], 4. 7DK-Daniel Killerlain , Madison, WI[7], 5. 03JM-Josh Morris , Stoughton, WI[11], 6. 3OO-Ozzie Osborne , Fitchburg, WI[9], 7. 9DB-Dan Bishop , Lodi, WI[14], 8. 1DK-Dylan Klinger , Albany, WI[13], 9. 22NM-Nicholas Miller , Brodhead, WI[8], 10. 16S-Sam Schulz , Brooklyn, WI[10], 11. 7RG-Randy Grancorvitz , Fort Atkinson, WI[17], 12. 4GR-Gene Robbins , Evansville, WI[4], 13. 59RB-Rick Buss , Sullivan, WI[22], 14. 19CG-Chris Groenier , Brooklyn, WI[24], 15. 4CK-Chad Koenecke , Albany, WI[16], 16. 6DS-Dary Schulz , Madison, WI[2], 17. 91RN-Richard Nelson , Oregon, WI[6], 18. 2TK-Todd Klinger , Madison, WI[3], 19. 8SW-Spencer Workman , Dodgeville, WI[19], 20. 24JM-Julie Morris , Windsor, WI[15], 21. 76JM-Jason Morgan , Evansville, WI[18], 22. 8JK-Jenna Bentzler-Killerlain , Columbus, WI[23], 23. 18CM-Cory McCarthy , Brooklyn, WI[20], 24. 29VS-Vincent Snyder , Sullivan, WI[21]
Roto Rooters 6Shooters – Feature 2 18 Laps
1. 101TC-Trevor Chilson , Middleton, WI[16], 2. 1DK-Dylan Klinger , Albany, WI[11], 3. 03JM-Josh Morris , Stoughton, WI[14], 4. 59RB-Rick Buss , Sullivan, WI[6], 5. 22NM-Nicholas Miller , Brodhead, WI[10], 6. XJVH-Jason VanHise , Roscoe, IL[17], 7. 3OO-Ozzie Osborne , Fitchburg, WI[13], 8. 4CK-Chad Koenecke , Albany, WI[4], 9. 18CM-Cory McCarthy , Brooklyn, WI[23], 10. 7DK-Daniel Killerlain , Madison, WI[15], 11. 8SW-Spencer Workman , Dodgeville, WI[19], 12. 19CG-Chris Groenier , Brooklyn, WI[5], 13. 6DS-Dary Schulz , Madison, WI[3], 14. 4GR-Gene Robbins , Evansville, WI[7], 15. 76JM-Jason Morgan , Evansville, WI[21], 16. 2TK-Todd Klinger , Madison, WI[1], 17. 7RG-Randy Grancorvitz , Fort Atkinson, WI[8], 18. 8JK-Jenna Bentzler-Killerlain , Columbus, WI[22], 19. 9DB-Dan Bishop , Lodi, WI[12], 20. 29VS-Vincent Snyder , Sullivan, WI[24]