Madison Int'l Speedway is a 1/2 & 1/4 mile paved racing facility located in Oregon, Wisconsin.
Contact Info
1122 Sunrise Road
Oregon, WI 53575
(608) 835-9700
Camping at MIS
Available on race nights and multiple days on National events, 1st come 1st parked, no open flames.
Track Photographer
Roy Ophime Photography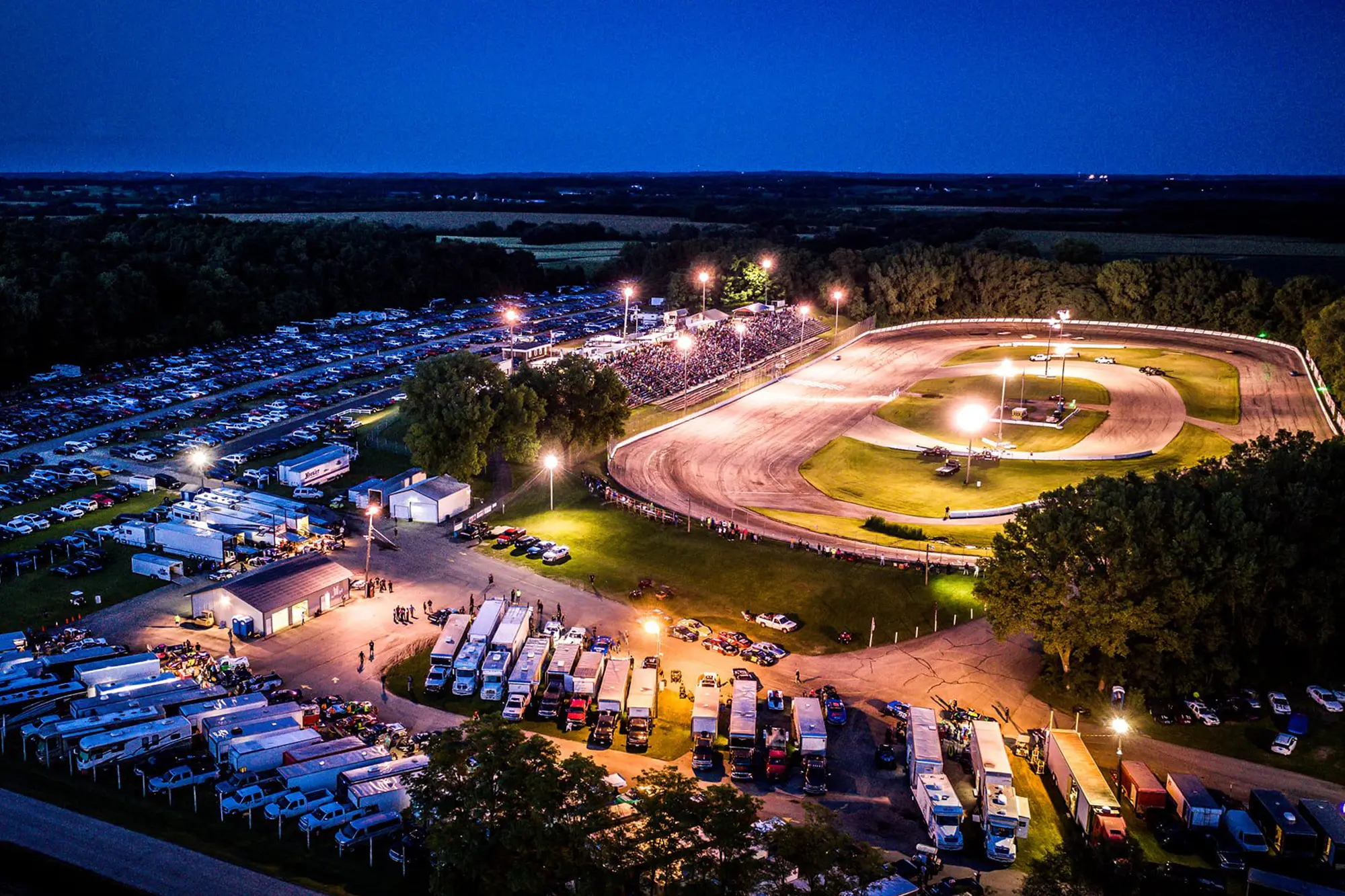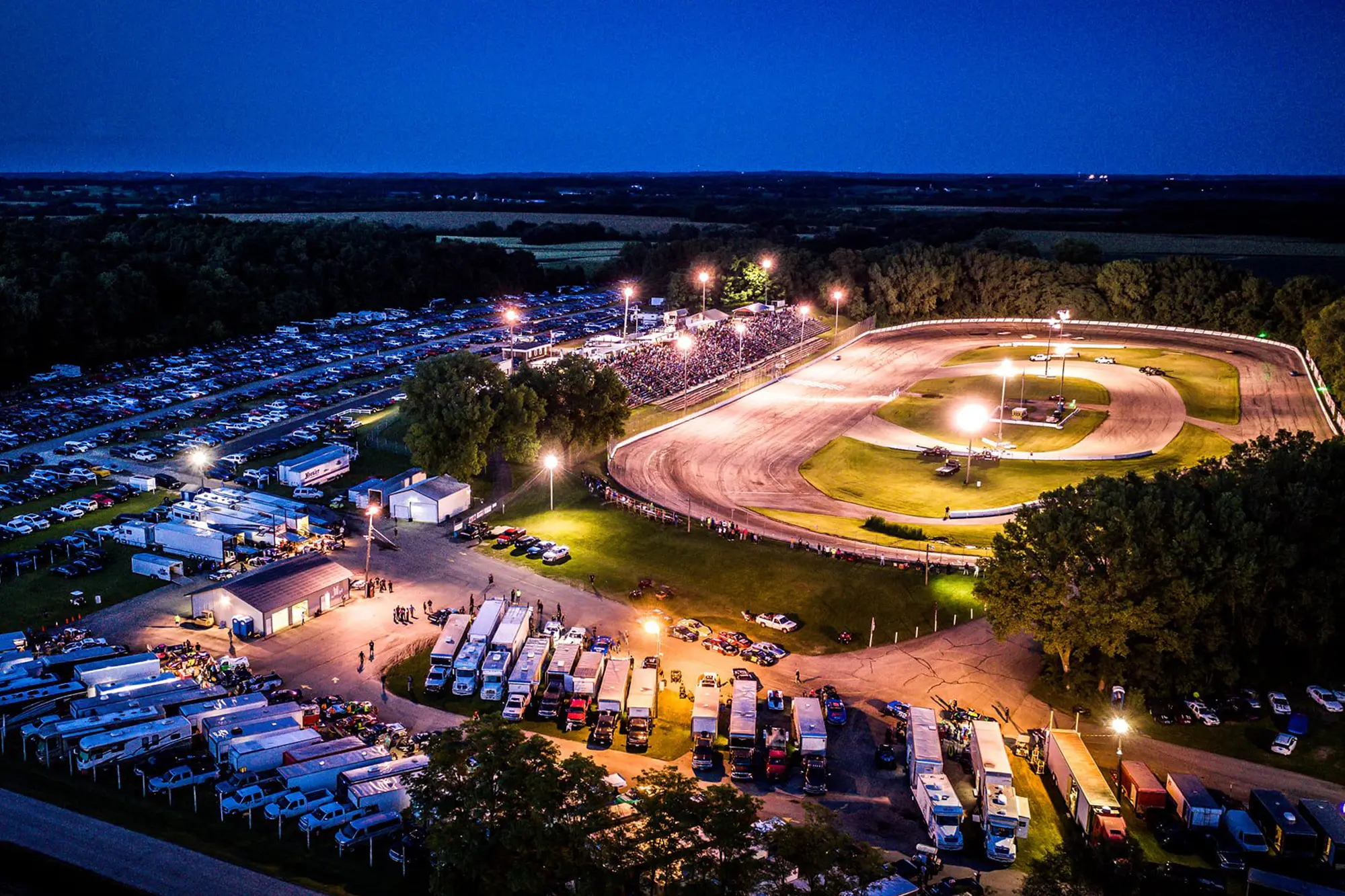 Madison Int'l Speedway is a 1/2 & 1/4 mile paved racing facility located in Oregon, Wisconsin.
Contact Info
1122 Sunrise Road
Oregon, WI 53575
(608) 835-9700
Camping at MIS
Available on race nights and multiple days on National events, first come first parked, no open flames.
Weekly Divisions
Late Models
MISfitz
6shooters
SORRY, NO CARRY-INS ALLOWED
Advance Tickets: Tickets for all future events can be purchased through the Ticket Hoss App by going to our website at misracing.com.
Banners and Signs: We love it if you bring banners and signs to cheer on your favorite driver. Of course, your sign must be in good taste and not obstruct the view of your fellow fans.
Beer Sales: We will not serve beer to anyone under the legal drinking age of 21 or to anyone who is deemed intoxicated. Proper ID will be required, and please drive responsibly. The blue section in the main grandstand is the family section – please no beer allowed.
Birthday Parties: Celebrate your special day at Madison International Speedway. We have many plans for kids 15 years of age an under. Admission, food & beverage, and VIP experiences are all included. For more information, call 608.835.9700.
Camping: Lake Kegonsa State Park and several private campgrounds are within easy driving distance of MIS. Rough camping is permitted at select events, no open flames allowed.
Concessions: There's plenty to eat and drink in food and beverage stands located on the main concourse. At large special events, we also offer satellite stands in additional locations.
Credit Cards: We accept all major credit cards at our front gate and pit gate, an ATM is located beneath main tower.
Customer Service: Have a question and don't know whom to ask? Stop at the Front Gate and they will direct you to the right person and will be happy to help!
E-mail: Email gm@misracing.com For Media inquiries you can e-mail us mismedia2@yahoo.com
Emergencies: Report emergencies to a Speedway employee in a "staff" shirt, a uniformed security officer or the Main Ticket Office.
Family Section: The blue section towards turn 4 is the Family Section. Alcoholic beverages and smoking are not permitted.
Fan Conduct/Profanity: As a family facility, fans using abusive or profane language or who are deemed intoxicated will be asked to leave the Speedway. Please report disturbances to the nearest uniformed employee, security officer or the Main Ticket Office.
Fan Mail: Want to send a driver or staff member a letter? Simply address it to the individual at the Madison International Speedway, PO Box 169, Oregon, WI 53565.
First Aid: If first aid is needed, contact either a security person or a uniformed staff member, who will escort you to the First Aid Station.
Group Outings: MIS is a great place for group outings of any size. Contact us at 608.835.9700 for more details.
Handicap Parking: Handicap parking is located on the asphalt in front of the main office near the main gate.
Handicap Seating: A viewing stand is located near turn one.
Internet: Pick up the latest race results, get schedule information, order tickets and more at the track website at www.misracing.com
Location: Madison International Speedway is located two miles east of Oregon / four miles west of Stoughton on Sunrise Road just south of Highway 138.
Lost and Found: The lost and found is located at the main ticket booth.
Overnight Parking: Overnight parking in the pits for race teams is allowed for special events only.
P.A. Announcements: Time permitting; the Speedway will try to announce your message. Please bring announcements to Kids' Club early in the evening.
Paging: Except in emergency cases, paging of spectators is not possible.
Parking: Parking at Madison International Speedway is free. A 5 mph speed limit is enforced.
Pets: Pets are NOT allowed in the Main Grandstand area but are welcomed in the Pits.
Playground: For our younger race fans, age 10 and under, it is located on the main concourse behind the Kids' Club.
Race Times: Most race night begin with time trials at 6:15 p.m. and races beginning at 7:30 p.m. Gates open at 6 p.m. Please refer to the Madison International Speedway schedule for special events or holiday start times.
Rest Rooms: Rest Rooms are located on the main concourse near turn one and turn four. Diaper changing stations are located in the restrooms near turn four.
Social Media Policy: While we understand the thrill of using social media to share your experiences at our speedway, we would like to remind everyone that our staff, drivers and teams work all week to provide the best entertainment possible, live, in-person. We reserve the right to remove any party or parties we determine to be providing live/realtime coverage and updates from Madison International Speedway via social media or otherwise. Thank you for your cooperation and enjoy the races.
Souvenir Stand: Located in the Kids' Club toward turn four.
Track Description: MIS features a half mile asphalt oval track with 18 degree banking in the turns and 8 degree banking on the front and backstretch. Additionally a quarter mile asphalt oval is located in the infield, sharing the start/finish line with Wisconsin's Fastest Half Mile.
VIP Seating: Several air-conditioned, indoor "Suites" are available for rent. Call 608.835.9700 for more information.