Racing Action Back on Track This Thursday and Friday Nights at MIS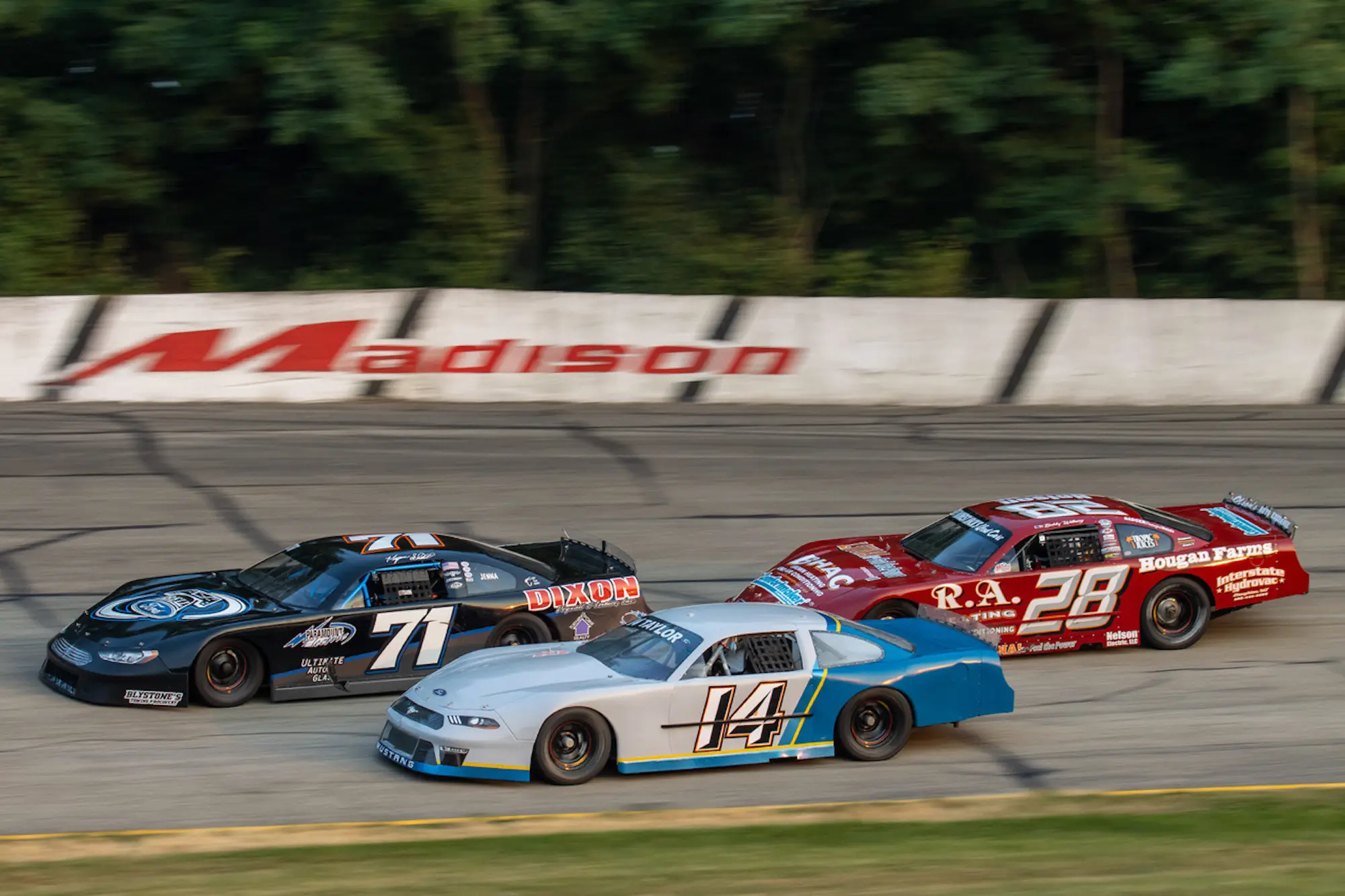 Fans will be seeing double at Madison International Speedway this week with a double header of action starting with the July edition of Thursday Night Street Drags and Bobcat of Janesville Kids' Night on Friday that features four divisions of racing action competing in double features.
The action gets going on Thursday night. From both a participant's and fan's point of view the One on One Street Drags and Shine n Show Contest continues to grow in popularity. Twenty brackets and nearly 300 competitors have made the popular street drags a destination of choice for many. Over 230 Bracket Entries took part in the June Street Drags.
Pit gates open at 6:00 PM with pit passes and bracket entries just $10.00. Vehicles eligible to compete in more than one bracket may do so for an additional $10.00 per bracket. It's not unusual to see some of our competitors racing in two or three different brackets. Grandstand admission is just $10.00 with Spectator Gates opening at 6:30 PM.
Bracket racing is done in a double elimination format up until the finals where it's best two out of three. A "Shine n Show" contest also is part of the show with fans having the chance to choose the best appearing vehicle. The night concludes with the running of the Race of Champions presented by Bumper to Bumper of Stoughton where nearly all of the bracket winners will have the opportunity to compete against one another.
Grudge racing and practice starts at 6:30 with the first bracket getting the green light at 7:30.
Thursday, July 13th
6:00 Pits Open
6:30 Practice and Grudge Racing
7:30 Bracket Racing Begins
8:30 Shine n Show Contest
Pit Pass: $10.00 / Entry fee is $10.00 per bracket
Grandstand admission is $10.00 / Kids 11 and under free
Family Pass: $30.00
---
Wisconsin's Fastest Half-Mile and Ring of Fire quarter-mile come alive on Friday night with Bobcat of Janesville Kids' Night where all kids 11 and under are admitted free. Four divisions will be in action including the Late Models, Dave's White Rock MISfitz, Roto Rooter 6Shooters and the High School Racing Association. All divisions will be racing double features on Friday night.
$1000 is on the line for the winner of each Late Model feature on Friday night. Zack Riddle is the current points leader in the Late Models and has won four of the five feature events giving him 32 Late Model wins for his career placing him second on the all-time Madison list. Riley Stenjem is second in the standings and picked up his first-ever Late Model feature win in the division earlier this season. Rounding out the top five are Bobby Wilberg, Shaun Scheel, and Brent Edmunds.
Dave Edwards shows the way in the Dave's White Rock MISfitz with a narrow seven point lead over Dan Snyder. Mason Hellenbrand, Chris Wangrow, and Justin Sellers complete the top five. Edwards has picked up two feature wins this season with Hellenbrand, Snyder, and Tanner Berge each picking up a checkered flag.
Although the Roto Rooter 6Shooters do not maintain point standings that doesn't mean there's any shortage of action as anything can happen and it usually does when the six cylinder cars race two and three wide on the Ring of Fire. Trevor Chilson, Bob McKeown, Dylan Klinger, and Josh Morris have picked up wins in the four events in 2023 for the 6Shooters.
The High School Racing Series (HSRA) is back for the third time this season with Kennedy Krueger, Mitchell Berg, and Jackson Martindale picking up wins. Krueger and Berg each represent Melrose Mindoro High School while Martindale carries the banner for Stillman Valley High School.
Pit gates open at 3:30 with qualifying at 6:15 and racing at 7:30.
Friday, July 14th
3:30 Pit Gates Open
4:15 Turn One Chapel
5:00 Practice
6:00 Front Gates Open
6:15 Qualifying
7:25 Opening Ceremonies
7:30 We're Racing
Adults: $15.00
Seniors / Heroes: $12.00
Students 12-17: $8.00
Kids 11 and under: Free
Family Ticket: $30.00
Upcoming July Events
Friday, July 21: 300 Impact Survival Series Enduro on the Ring of Fire
Friday, July 28: Fink's Paving of Mt. Horeb Racers' Reunion Night featuring double features for the Late Models, MISfitz, and 6Shooters with the Upper Midwest Vintage Series also on track.