Nason Wins ASAMT Howie Lettow Classic at Madison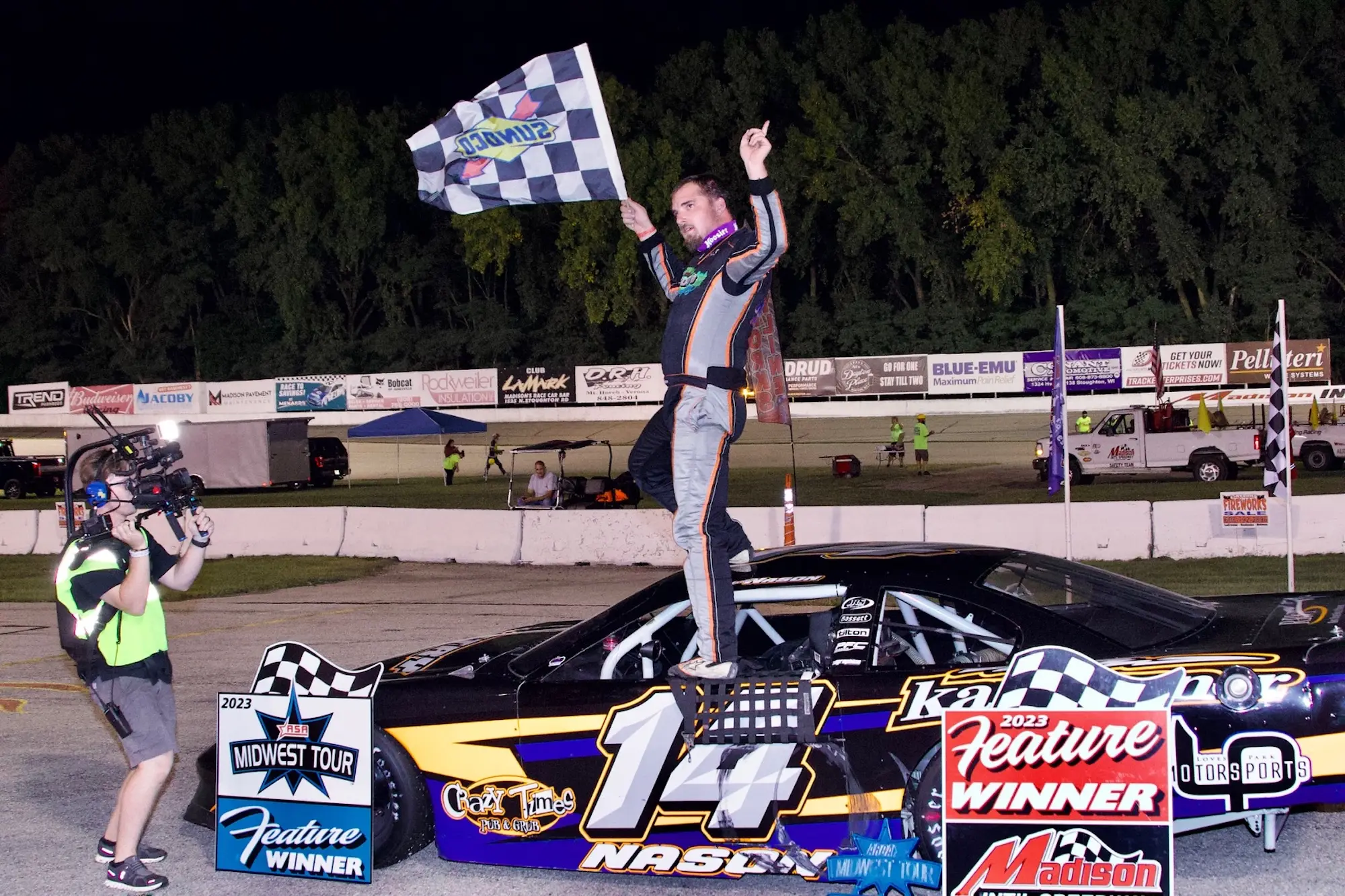 Mike Ramsell Photos
Oregon, WI (Friday, August 25, 2023) – Austin Nason became the seventh different driver to win the ASA Midwest Tour's Howie Lettow Classic 100 on Friday night at Madison International Speedway in Oregon, WI.
The Roscoe, Illinois driver came from his 13th starting position and made a pass from third to first with eight laps to go as Max Kahler and John DeAngelis were battling side-by-side for the lead when the two made contact and drifted up the MIS high banks opening the door for Nason to sneak through for the victory.
"I just couldn't fire off on restarts, it took me about a lap or two to get going," Nason said after the race. "They (Kahler and DeAngelis) happen to get together when I was right behind them, and it just worked out. We had a good car. We started 13th and picked our way through there."
The early going of the race was the Jeff Storm show as he got the lead on lap two from current ASAMT point leader Gabe Sommers. Storm would pace the field until lap 60 when Dalton Zehr chased him down and took over the top spot.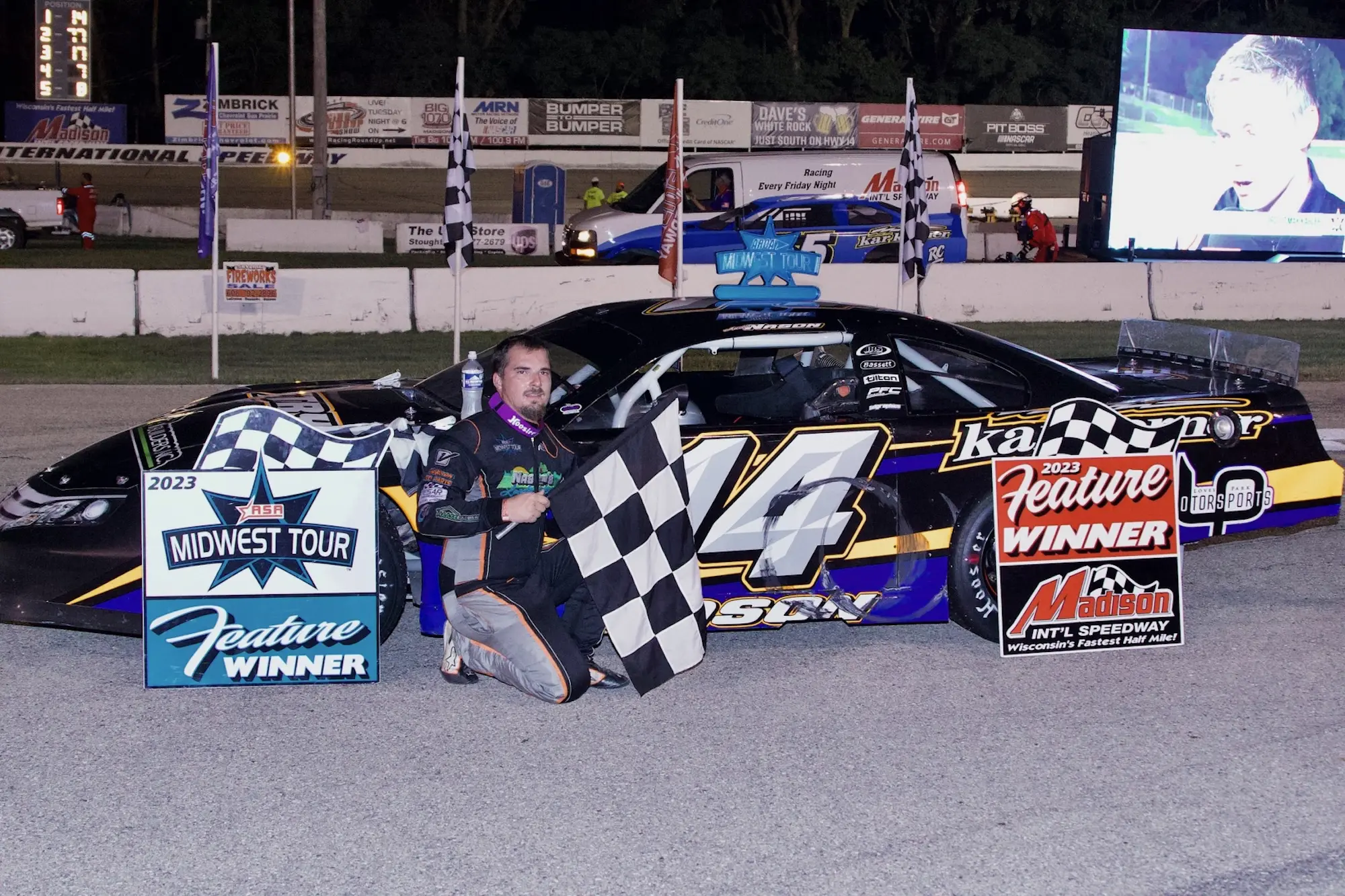 Four laps later, Sommers came to a stop on the front stretch after getting a flat tire, to bring out a caution.
On the restart, Kahler got by Storm for the second spot with Zehr holding a comfortable lead until the caution flew on lap 75 when Jeremy Lepak and Sommers made contact on the backstretch. Both would be done for the night.
Kahler and Zehr would put on an intense side-by-side battle for the lead until the caution flew on lap 87 when Brent Edmunds was slow on the track.
The side-by-side battle resumed between Kahler and Zehr for the top spot until a lap later when it appeared that Zehr got loose going into turn three and spun with the field scattering to avoid him.
Kahler would take over the top spot and would have a new battle with DeAngelis until the two made contact in turns three and four causing both cars to drift up allowing Nason and Riley Stenjem to get by and take the top two spots.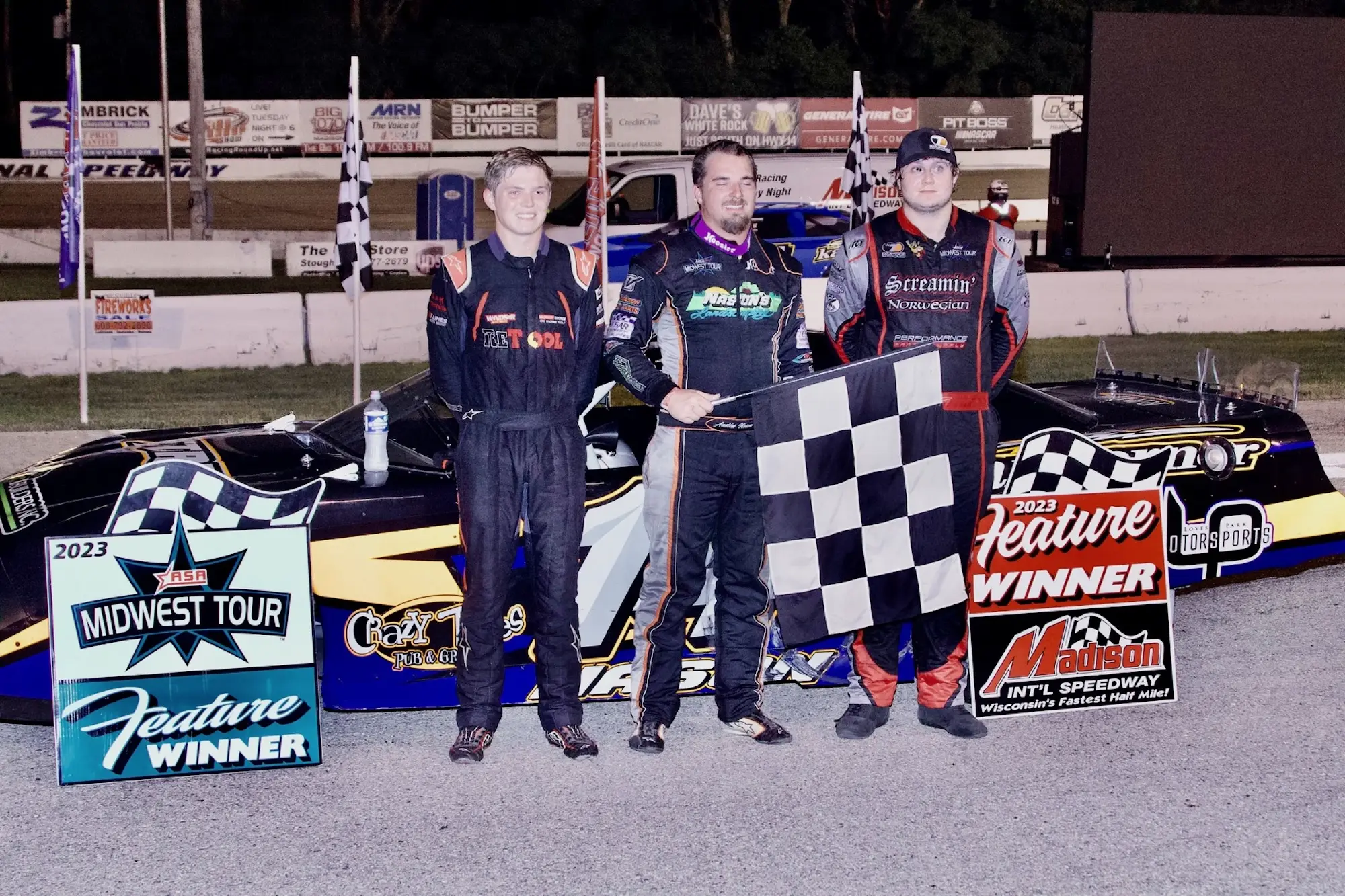 Stenjem would try to get to Nason's bumper on the last lap, but Nason was to strong and took the checkered flag.
"We were there when it counted and that is part of racing, you have to be there at the end," Stenjem said. "Austin and I rode around there saving our tires and saving our brakes and had good cars when we fired off. We are getting close to a tour win. We went for it, trying to make it more interesting cause you only get a chance at your first win so many times. We took a shot at it, but he was too far out."
Kahler, who was in contention all night for his first Midwest Tour win, was still satisfied with a podium finish.
"We had a real good car, but I think we let one slip there," Kahler exclaimed. "I just got too greedy going into three with the seven car (DeAngelis) outside of me when I wheel hopped and got into him a little. I hate it for both of us, but I drove my butt off trying to do it and unfortunately it didn't fall our way tonight."
DeAngelis finished fourth with Billy Mohn finishing fifth. Nathan Kelly finished sixth in his third Midwest Tour start.
Justin Mondeik, who came into tonight third in points only one point behind Levon Van Der Geest, finished seventh. Barrett Polhemus got his third straight top-ten finish after finishing eighth. Eddie Hoffman and Harley Jankowski rounded out the top ten.
Nason won the odd heat over Bryan Syer-Keske with Sommers in third. Brent Edmunds was the winner of the even heat with Barrett Polhemus in second and Ryan Farrell in third.
Nathan Kelly held off a late charge from Jeremy Lepak to win the qualifier heat.
Derek Kraus was the fast qualifier with a time of 17.800 seconds (101.124 mph). He felt out early in the main event with engine issues and finished 21st.
The ASA Midwest Tour will be back in action on Saturday, September 2nd for the Jim Sauter Classic 200 at Dells Raceway Park in Wisconsin Dells, WI. The race will pay $15,555 to win!
For a replay of tonight's event, visit midwesttour.tv.