Jon Reynolds Jr. Rules the Big 8 Late Models at Madison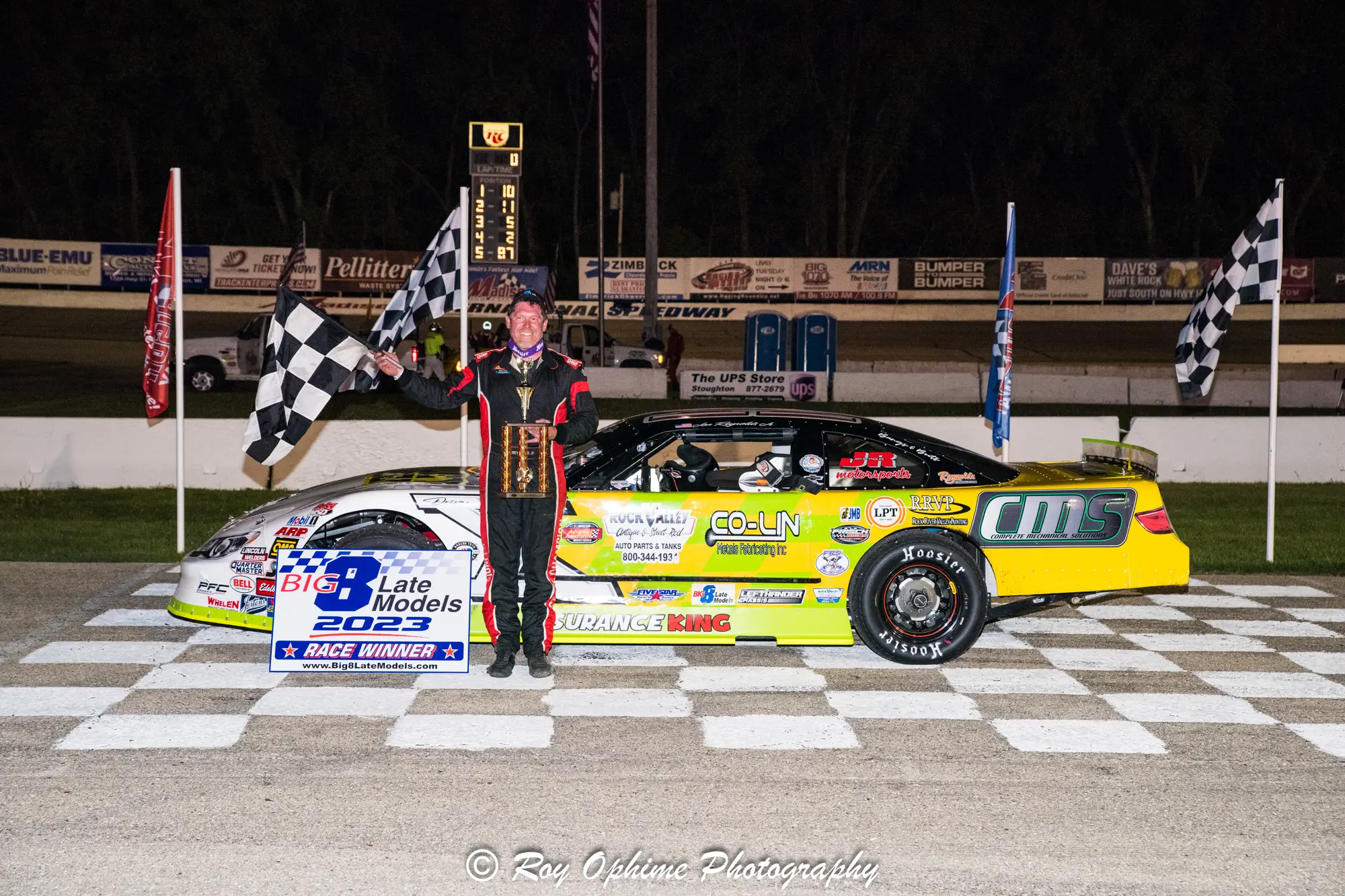 Josh Nelms and Karter Stark also Get Wins
It was opening night at Madison International Speedway and despite the cool temperatures the action on the track was hot. When the night ended three drivers would head home with the checkered flag. Jon Reynolds Jr. won in the Big 8 Late Models while Josh Nelms picked up the flag in the Mid Am Racing Series and Karter Stark was victorious in the Midwest Dash Series.
Jon Reynolds Jr. is Best of the Big 8 Late Models
Reynolds Jr. won the 48 lap main event for the Big 8 Late Models at Madison. It was his second Big 8 victory at Madison after pick up the win in 2014.
Grant Brown and Trevor Robinson brought the twenty-one car field to the green flag. Brown grabbed the early lead followed by Robinson, Kody King, and Jon Reynolds Jr. On lap 3 Reynolds Jr. moved by King for third with Brent Edmunds moving into fourth on lap 5. One lap later Reynolds Jr. cleared Robinson for second and started to go to work on Brown. On lap 7 Reynolds Jr. took the lead over Brown and jumped out to a seven car length lead. On lap 10 Bobby Wilberg and Jeremy Miller were moving up through the field. Jake Gille and Randy Sargent cracked the top five after eleven laps followed by Wilberg and Miller.
On lap 16 Gille and Sargent worked past Robinson to take third and fourth with Wilberg up to fifth on lap 18. Jake Gille past Brown for second on lap 20 with Wilberg and Miller moving up to third and fourth. But out front Reynolds Jr. was building up a big lead over Gille and Sargent. On lap 23 Sargent passed Gille for second with Miller around Gille on lap 24. Wilberg's night would end early when he pulled his car to the infield on lap 27.
The fastest car on the track at this point was Randy Sargent who was quickly closing in on Reynolds Jr and with twenty laps to go was just two car lengths behind. With lapped traffic ahead both Reynolds Jr. and Sargent were able to maneuver their way around the slower cars. With fifteen laps to go Reynolds Jr.'s lead was six lengths over Sargent with Miller in third, Gille in fourth, and Dale Nottestad in fifth.. The first caution of the night came out for a spin on lap 13.
Reynolds Jr. would bring the field back to the green with Sargent on the inside of row two and Miller on the outside. It was a great restart for Reynolds Jr. getting out front by three lengths over Sargent with Miller in third and Nottestad and Edmunds rounding out the top five. With nine laps to go, Sargent was right on the rear bumper of Reynolds Jr. with Miller right behind Sargent. Sargent gave Reynolds Jr. a tap coming out of turn two with six laps to go. With three laps to go Reynolds Jr. was able to increase his lead over Sargent and Miller but with a lapped car ahead anything could happen. The leaders were able to get by the lapped car, and despite Sargent's best effort he was unable to surpass Reynolds Jr. who took home the victory. Miller finished third followed by Nottestad and Edmunds.
"It feels good. We've been working hard and putting in a lot of hours," said Reynolds Jr. who just got back from North Carolina.
The fastest qualifier was Jeremy Miller with a lap of 18.588 (96.837 mph). Preliminary events were won by Jon Reynolds Jr. and Bobby Wilberg.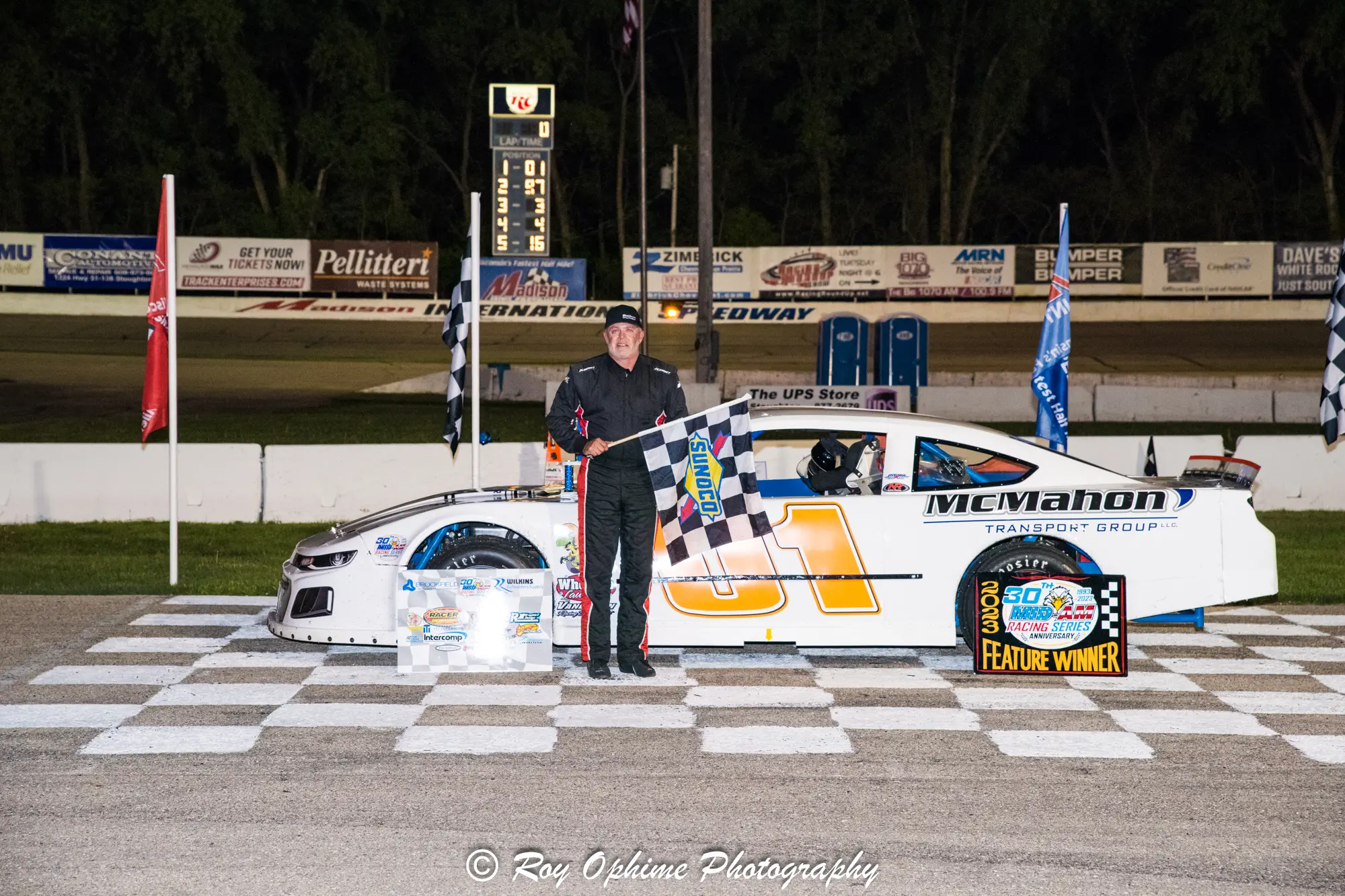 Josh Nelms Takes Home Mid Am Checkered Flag
It's been more than ten years since Josh Nelms last raced at Madison, but you wouldn't know it tonight after he picked up the win in the 30 lap feature for the Mid American Racing Series.
John Ventrello and James Swan paced the twenty-one car field to the green flag. Ventrello took the early lead over Swan with Bill Prietzel moving into third after two laps followed by Bobby Gash and Daniel Calhoun. Ventrello increased his lead to three car lengths after five laps. On lap 6 Prietzel dropped to the low side of the track to pass Swan for second as the top three started to distance themselves from the field. A good battle was taking place behind the top three where Josh Nelms passed Calhoun for fourth on lap 8. On lap 12 Prietzel drifted up the track coming out of turn four allowing both Swan and Nelms to get by him.
On lap 16 Nelms powered his way past Swan. One lap later Nelms worked to the inside of Ventrello to take the lead. While Ventrello, Swan, and Calhoun were fighting it out for second through fourth, Nelms was building up a double digit car length lead out front. An incident in turn four on lap 21 involving Prietzel and Jeremy Spoonmore brought out the first caution flag of the race and took away Nelms' lengthy lead over his fellow competitors.
Nelms brought the field back to green with nine laps to go in the single file restart. Nelms quickly jumped out to a six length lead over Swan. Behind the top three Ventrello, Ron Vandermeir Jr., and Calhoun were racing hard for third with Vandermeir Jr.winning the position with five laps to go. Another caution for a spinning car with four laps to go brought out the race's second caution flag and once again negated Helms' advantage.
Again it was Nelms leading the field back to the green followed by Swan, Vandermeir, Calhoun and Ventrello. It was the same result for Nelms who quickly built up a big lead over Swan and the rest of the field and cruised his way victory lane. Swan, Vandermeir Jr., Calhoun, and Ventrello completed the top five.
"It took me a little while to figure out the line. The car was really good, but I knew we were going to have a pretty good car. We're two for two," said Nelms who has won both of his Mid Am starts this season.
Fast time in qualifying was set by Josh Nelms with a trip of 19.270 (93.409). Winning the 8 lap heat races were John Ventrello, Tim Stewart, and Mike Wienc.
Midwest Dash Series
A Clean Sweep and New Track Record for Karter Stark
Karter Stark's night started off well when he set a new track record and then he proceeded to win his heat and the feature to pick up a clean sweep in the Midwest Dash Series.
Dan Braun and Tim Finstad led the field to the green flag, but it was George Sparkman jumping out to the early lead. On lap 3 Finstad took the second spot from Braun and tried to chase down Sparkman. But disaster struck for Sparkman when he lost power on lap 4 bringing out the caution and ending his night prematurely.
Tim Finstad had the honors of bringing the field back to the green flag for the double file restart. Finstad elected to lineup on the inside with Gary Stark Jr. taking the high side and Karter Stark behind Finstad. Stark Jr. quickly moved by Finstad to take the top spot with Phil Malouf up to second while Finstad and Karter Stark raced side by side for third. On lap 7 Karter Stark moved into third and one lap later to second and started to chase down his Uncle Gary. On lap 10 it was a Stark versus Stark battle for the lead with Finstad and Malouf two by two for third. On lap 12 Karter Stark powered his way to the lead and wasted no time building up a six car length advantage.
Just when it appeard Stark had it on cruise control, it appeared that he was starting to experience some mechanical issue. But he was still able to lead the rest of the way to pick up the clean sweep. Gary Stark Jr. finished second followed by Malouf, Braun, and John Handeland.
"About half way through the race the car was starting to struggle a little, but we kept it going," said Stark.
Fast qualifier was Karter Stark who set a new track record with a lap of 20.806 (86.514 mph). Stark now holds the four cylinder record on both tracks at Madison. Heat races were won by Lyle Philips and Karter Stark.
Racing continues on Friday, May 26th with the Late Models, Dave's White Rock MISfitz, and Roto Rooter 6Shooters all competing in double features plus the Midwest Super Cups will also join the program. It's also $2.00 Busch Light Night!
Results
Big 8 Late Models
Feature: (1-10) Jon Reynolds Jr., Randy Sargent, Jeremy Miller, Dale Nottestad, Brent Edmunds, Jerry Mueller, Jake Gille, Rusty Hansen, Mitch Haver, Grant Brown
(11-21) Kody King, Greg Borchardt, Tyler Hromadka, Steve Vaughn, Hanna Raley, Jeremy Bentz, Paul Dygon, Will Rece, Trevor Robinson, Bobby Wilberg, Hunter Stenson
Heat One: (1-13) Jon Reynolds Jr., Trevor Robinson, Brent Edmunds, Grant Brown, Kody King, Hunter Stenson, Steve Vaughn, Tyler Hromadka, Jeremy Bentz, Greg Borchardt, Hanna Raley, Paul Dygon, Rusty Hansen
Heat Two: (1-8) Bobby Wilberg, Jeremy Miller, Will Rece, Jerry Mueller, Randy Sargent, Jake Gille, Mitch Haver, Dale Nottestad
Qualifying: (1-10) Jeremy Miller, Dale Nottestad, Bobby Wilberg, Will Rece, Randy Sargent, Jerry Mueller, Jacob Gille, Mitch Haver, Rusty Hansen, Brent Edmunds
(11-21) Jon Reynolds Jr., Kody King, Trevor Robinson, Greg Borchardt, Steve Vaughn, Grant Brown, Hanna Raley, Hunter Stenson, Tyler Hromadka, Jeremy Bentz, Paul Dygon
Mid American Racing Series
Feature: (1-10) Josh Nelms, James Swan, Ron Vandermeir Jr., Daniel Calhoun, John Ventrello, Jeremy Spoonmore, Tim Stewart, Clay Curts, Bobby Gash, Andrew Meyerhofer
(11-21) Connor Kosowski, Steve Blair, Timmy Spatz, Dale Lecus, Jim Thorson, Rick Corso, Tony Holm, Mike Wienc, Cameron Vandermeir, Brandon DeLacy, Bill Prietzel
Heat One: (1-7) John Ventrello, Daniel Calhoun, Dale Lecus, Rick Corso, Jeremy Spoonmore, Cameron Vandermeir, Andrew Meyerhofer
Heat Two: (1-8) Tim Stewart, Bobby Gash, Clay Curts, Josh Nelms, James Swan, Ron Vandermeir Jr., Bill Prietzel, Steve Blair
Heat Three: (1-6) Mike Wienc, Tony Holm, Jim Thorson, Connor Kosowski, Timmy Spatz, Brandon DeLacy
Qualifying: (1-10) Josh Nelms, Dale Lecus, Ron Vandermeir Jr., Rick Corso, Clay Curts, Jeremy Spoonmore, Bill Prietzel, Daniel Calhoun, Bobby Gash, Andrew Meyerhofer
(11-21) James Swan, John Ventrello, Tim Stewart, Cameron Vandermeir, Steve Blair, Connor Kosowski, Jim Thorson, Timmy Spatz, Tony Holm, Mike Wienc, Brandon DeLacy
Midwest Dash Series
Feature: (1-10) Karter Stark, Gary Stark Jr.,Phil Malouf, Dan Braun, John Handeland, Anna Price, Noah Pankow, Lyle Phillips, Caden Pankow, Tim Finstad
(11-12) Mark Dewey, George Sparkman
Heat One: (1-5) Lyle Phillips, Anna Price, Caden Pankow, John Handeland, Noah Pankow
Heat Two: (1-7) Karter Stark, George Sparkman, Gary Stark Jr.,Tim Finstad, Dan Braun, Mark Dewey, Phil Malouf
Qualifying: (1-10) Karter Stark,Phil Malouf, Gary Stark Jr., George Sparkman, Mark Dewey, Tim Finstad, Dan Braun, Lyle Phillips, Caden Pankow, John Handeland,
(11-13) Anna Price, Noah Pankow, Tyler Deschaine