James Lynch Wins Sassy Cow Creamery 30 at Madison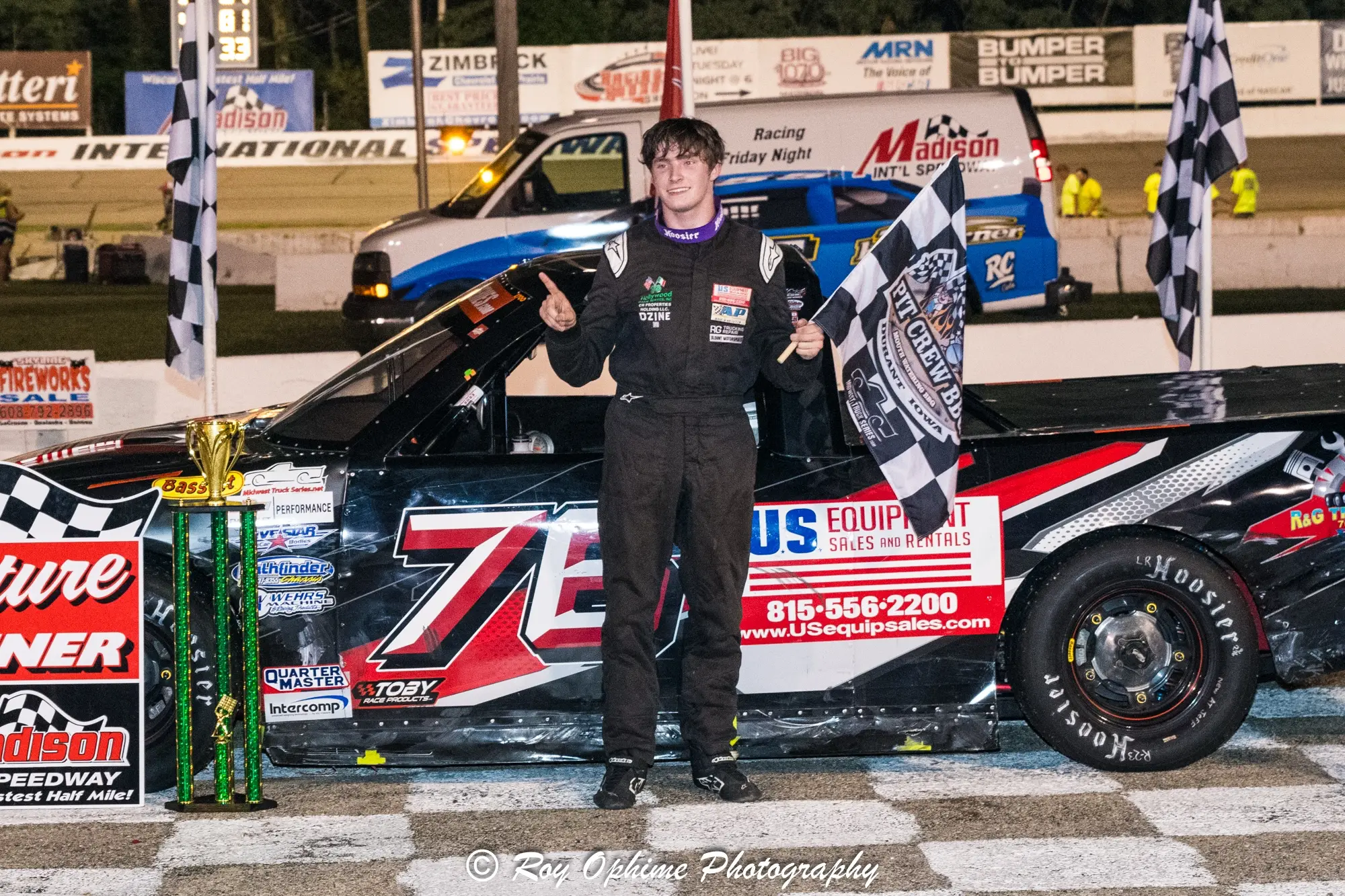 Oregon,WI (August 25, 2023) For a driver who hasn't raced much at Madison in his career, James Lynch of Palos Park, Illinois, sure seems to enjoy making the trip here as he made it two for two in the Midwest Truck Series in 2023 by winning the Sassy Cow Creamery 30. He also was the winner in the season opener back on May 7th and became just the second driver in the Midwest Truck Series to win two races at Madison in a single season since 2011. Lynch also has a win at Madison in the Legends division back in 2018.
The field was brought to the green flag by Lynch and Jason Stark. The duo ran side by side with Grant Griesbach in third before the caution flag came out on lap 3 for a spin coming out of turn one that collected several trucks. Stark and Lynch brought the field back to green and once again raced side by side before Stark was able to take a slight lead on lap 5. Stark was holding his own running the outside with Lynch on the inside followed by Griesbach, Eugene Gregorich III, and Chester Ace. Lynch was not going to let Stark go as the two ran side by side for the lead. The top five were joined by James Swan and Danielle Behn as the front seven broke away from the pack.
At the front of the field Lynch and Stark continued to race side by side with Lynch getting back the lead on lap 18 with Griesbach taking second from Stark on lap 19. Out front Lynch was able to build a ten truck length advantage with ten laps to go. Lynch's lead was 1.5 seconds over Griesbach before Gregorich III brought out the yellow flag when he made contact with the front stretch wall with eight laps to go.
Lynch and Griesbach led the field back to green with Lynch getting away clean to retain his lead. He quickly opened up a six length margin over Griesbach, Stark, Swan, and Ace. With five laps to go Swan passed Stark to take the third position. The only thing that could help Griesbach and his fellow truckers catch the leader would be a caution flag, but the race stayed green the rest of the way allowing Lynch to pick up the win by 1.068 seconds. Swan finished third followed by Stark, and Ace.
Weston Marthaler set fast time with a lap of 19.225 (93.628 mph). Heat race winners for the Midwest Trucks were Kevin Zielezinski, Aaron Moyer, and Lynch.
Unofficial Results
Feature (1-10) James Lynch, Grant Griesbach, James Swan, Jason Stark, Chester Ace, Kevin Knuese, Danielle Behn, Bryce Miller, Jeff Holtz, Weston Marthaler
(11-20) Brandon Reichenberger, Tyler Noble, Aaron Moyer, Jesse Green, Brent Kirchner, Robbie Rucks, Tucker Bodendorfer, Bobby Selsing Jr., Eugene Gregorich III, Cody Vander Loop
(21-24) Nick Roehl, Kevin Zielezinski, Derek Doerr, Tom Steinbach
Heat One: (1-8) Kevin Zielezinski, Tom Steinbach, Nick Roehl, Brandon Reichenberger, Jesse Green, Robbie Rucks, Bobby Selsing Jr., Tucker Bodendorfer
Heat Two: (1-8) Aaron Moyer, Jeff Holtz, Jason Stark, Bryce Miller, Eugene Gregorich III, Derek Doerr, Brent Kirchner, Chester Ace
Heat Three: (1-8) James Lynch, James Swan, Danielle Behn, Grant Griesbach, Cody Vander Loop, Kevin Knuese, Weston Marthaler, Tyler Noble
Qualifying: (1-10) Weston Marthaler, Chester Ace, Kevin Knuese, Derek Doerr, Danielle Behn, Eugene Gregorich III, James Swan, Brent Kirchner, Grant Griesbach, Jason Stark
(11-20) James Lynch, Jeff Holtz, Cody Vander Loop, Bryce Miller, Tyler Noble, Aaron Moyer, Brandon Reichenberger, Bobby Selsing Jr., Nick Roehl, Robbie Rucks
(21-24) Kevin Zielezinski, Jesse Green, Tom Steinbach,