Isaac Bray Edges Kyle Stark in One of the Closest Finishes Ever at Madison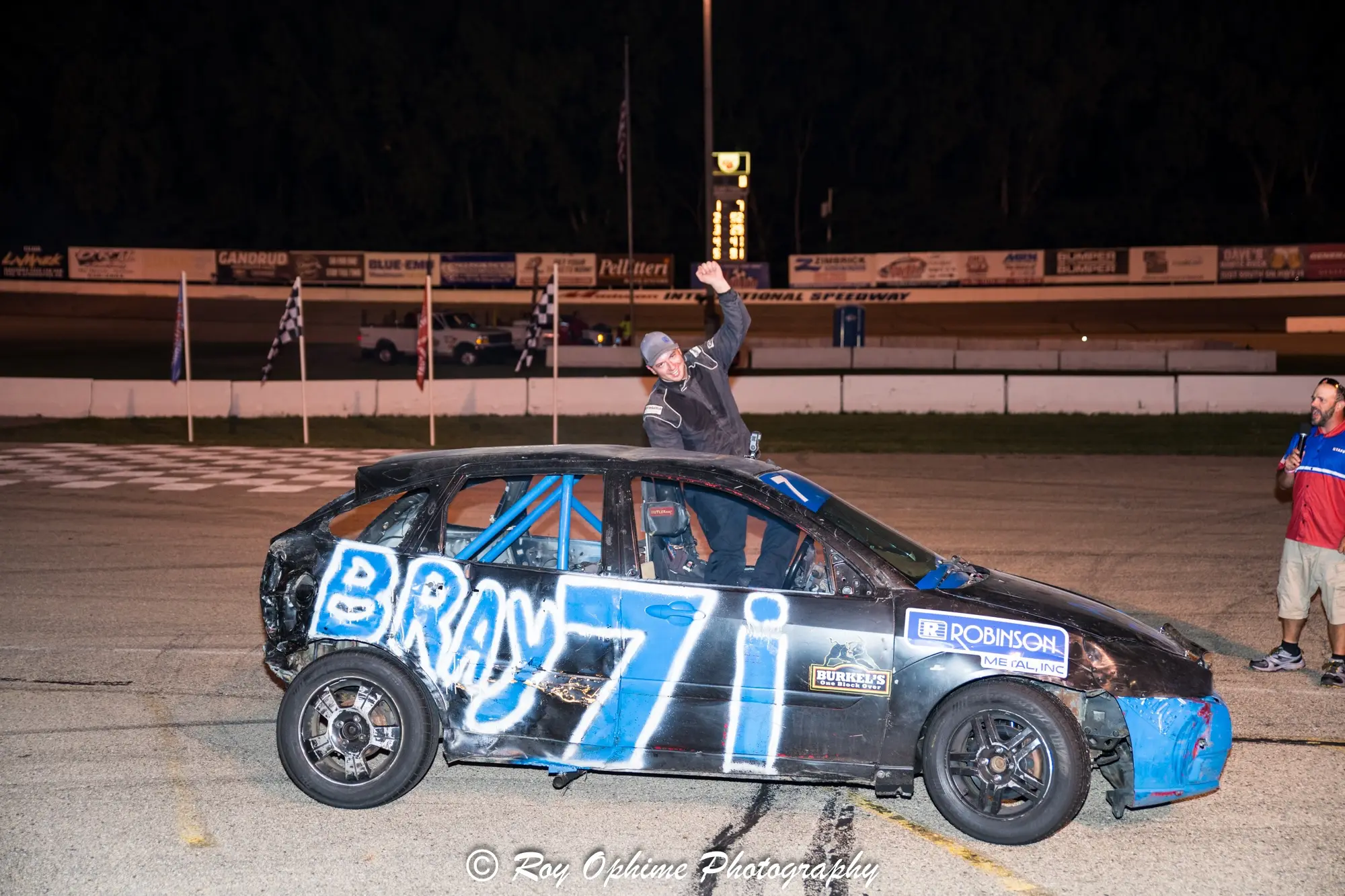 They raced 300 laps / 75 miles on the "Tri Oval of Fire" and it all came down to a few inches. You couldn't have asked for a closer and more exciting finish as Isaac Bray edged Kyle Stark by 0.004 seconds to win the 300 lap Enduro race for the Impact Survival Series (ISS). Both Bray (DePere, WI) and Stark (Marshall, WI) started deep in the field with Bray starting in row 13 and Stark in row 14 and wound up being the only two drivers on the lead lap when it was all said and done. This was Bray's second career win in the ISS after winning at Wausau last year.
Craig Kreuser jumped out to the early lead followed by Frank Calabrese, Elliott Reid, and Karter Stark. Reid took the top spot on lap 9 and quickly began catching the tail end of the fifty-five car field. Kreuser took the lead back on lap 15 only to see Scott Blanke race to the top spot on lap 17. On lap 23 John Wickesberg snuck past Blanke to get the lead. Troy Tuma worked his way through the field to challenge Wickesberg. From this point the two took turns running out front as they maneuvered their way in and around lapped traffic.
On lap 90 Isaac Bray moved into third followed by Adam Hayden and Dave Beyer. With 100 laps in the book, Tuma, who made the long haul to Madison from Minnesota, continued to lead with Wickesberg and Bray fighting it out for second followed by Hayden and Beyer. On lap 110 Tuma went to the pits giving the lead to Bray who was followed by Hayden, Beyer, Kyle Stark, and Wickesberg. The fastest on the track was Stark who moved up to third on lap 125 and set his sights on Bray and Hayden. On lap 130 Hayden moved to the inside of Bray coming out of turn two to take the lead. One lap later Bray was back out front again when Hayden went high going into turn one. Behind the top two, the battle for third and fourth was back and forth between Stark and Beyer who traded places several times. Stark eventually won the battle for third and then moved into second on lap 145. At the half-way mark Bray's lead over Stark was down to 2.6 seconds with a total of five cars still on the lead lap including Davey Pennel who was fifth. On lap 161 Pennel moved past Hayden to take over the fourth spot. On lap 167 Stark caught Bray and was right on his rear bumper. Stark put the pressure on Bray, but Bray was able to maintain the lead as the two were catching the fourth place car of Pennel who was in danger of going a lap down leaving only three cars on the lead lap. On lap 190 Stark passed both Bray for the lead and Pennel to put him a lap down. On lap 195 Beyer had a tire blow to send him to the pits leaving just two drivers on the lead lap.
At the mandatory red flag pit stop for the field at lap 200, Stark and Bray were the only two cars on the lead lap. Pennel was third down one lap Todd Tacheny was fourth down three laps with Kreuser in fifth down four laps. When asked during the break about his pass for the lead, Stark said, "There's time to take chances and there's times not." The break allowed teams to work on their cars to prepare for the final one hundred laps.
Stark and Bray brought the field back to the green flag for the 100 lap shootout. Stark maintained his lead with Bray doing everything he could to take the lead, but lapped traffic held him up which allowed Stark to build up a five car length lead with eighty laps to go. With seventy laps to go Stark's lead over Bray was down to 0.8 seconds. On lap 235, Bray looked to the inside of Stark and one lap later took the lead away from Stark. On 254 Bray was able to increase his lead to nearly ten lengths thanks to slower traffic that delayed Stark. But Stark worked his way past the slower cars and started to hunt down Bray again. The red flag came out on lap 259 when Scott Riedner lost a wheel.
While the cars were parked on the track during the red flag, Stark's machine showed signs of overheating as steam came out of his car. When the race went green, Stark was able to continue and quickly was up to challenge for the lead. With twenty seven laps to go Stark was able to take the lead away from Bray and pull away with a 2.1 second lead with twenty laps to go. But Bray closed the gap and with fourteen laps to go had caught Stark. Stark protected the bottom forcing Bray to go outside. With ten laps to go the leaders were side by side. With eight laps to go Bray took the lead back from Stark, but Stark was far from done. On the final lap Stark and Bray were side by side with three slower cars ahead of them as they came out of turn four. This set up one of the wildest finishes in many years at Madison as they came to the line side by side and made contact with the slower cars as the pack slid across the finish line. The transponders showed Bray winning by 0.004 seconds which was confirmed by video replay and a check of the transponder positions on both cars.
"We were neck and neck the whole time. Hats off to Kyle for his efforts, said Bray. When asked about his starting position deep in the field he added, "I don't have a lot of patience so I just try to work my way up and see how it goes," added Bray during his post-race interview from victory lane.
Pennel (Sparta, WI) finished in third followed by Tacheny (Mankato, MN) and Kreuser (Kenosha, WI).
During pre-race ceremonies, the fans were treated to an outstanding rendition of the National Anthem performed by Maribel recording artist and ISS Director, Matt Rowe.