Inaugural Joe Shear Classic Winner Playing Super Sub at Madison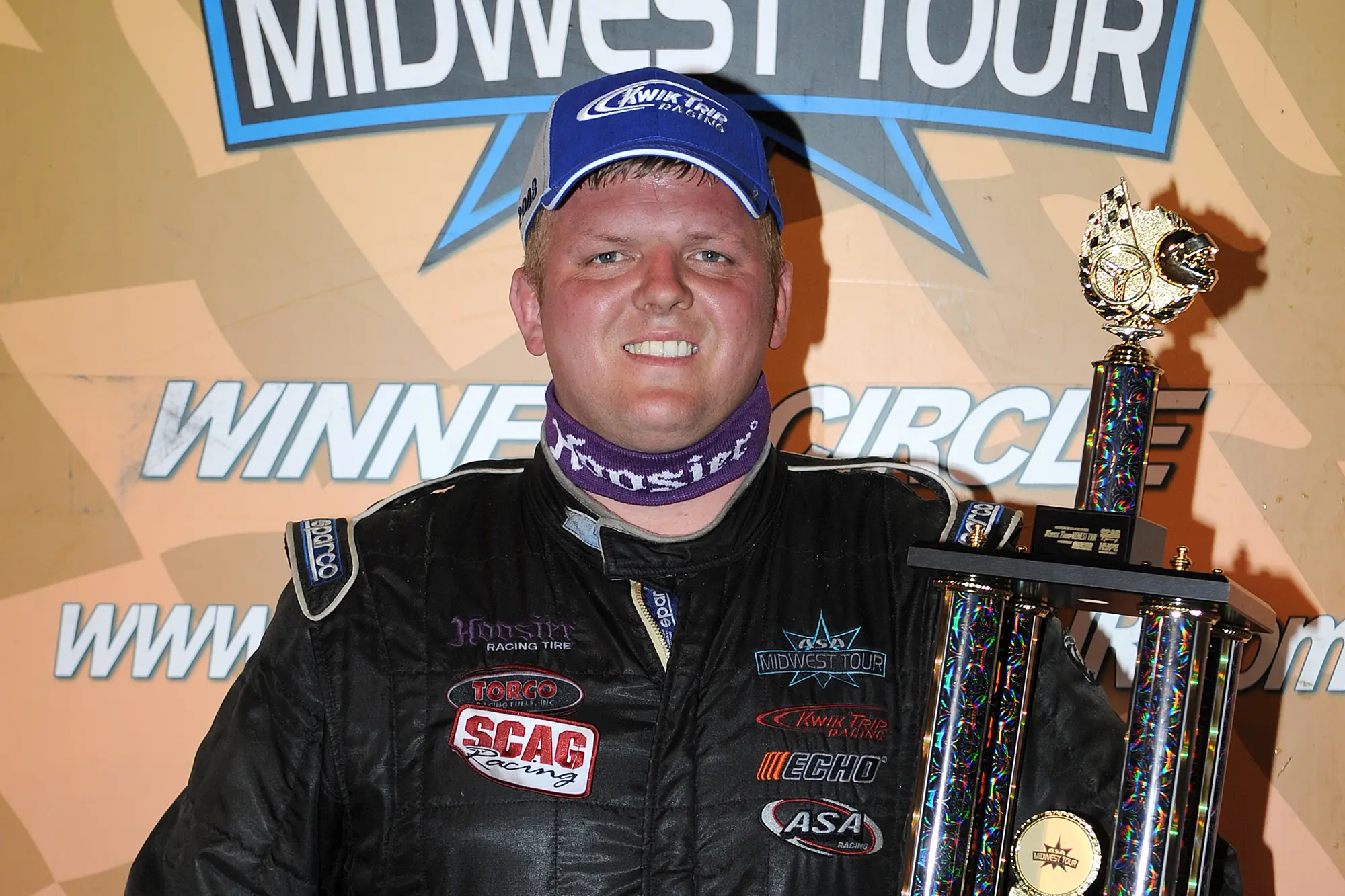 Doug Hornickel Photo
Race fans may see an unfamiliar sight when the ASA STARS National Tour heads to Madison International Speedway in Oregon, WI, for this weekend's Joe Shear Classic. The subject of that sight is one of the Midwest's top drivers.
Two-time ASA Midwest Tour champion Dan Fredrickson will be competing in Michael Hinde's equipment for Madison, as well as in the Gandrud Auto Group 250 at Wisconsin International Raceway in August.
The Minnesota driver will be piloting the number 69 instead of his usual 36. Herman's Landscape Supply, OlsonAutos.com and Fast Eddie's Fun Center will continue to support Fredrickson, while Mike Scott Plumbing will be added for these two races. Fredrickson will accumulate drivers points for the event and Michael Hinde Racing will keep its owners points from the finish.
Hinde will not race Madison due to other obligations and Fredrickson is looking forward to covering for the young Florida racer.
"To be honest, I wanted him to drive my car for these races, but he's got to go to prom this weekend and he's got something else going on during the Gandrud 250 race," explained Fredrickson, whose original 36 car will be piloted by Bryan Syer-Keske. "It just works out that we run under his number and get him points in those two races with me driving it.
"I think Michael's a super cool kid and a great up-and-coming young racer. When it worked out that I could run these two races up here, I was pretty excited for it. They're a great family and I hope they do well and win some races."
Fredrickson finished 12th in the ASA STARS National Tour opener at Five Flags Speedway in March, where he was one of only two drivers in the field who had competed with the original American Speed Association. He finished seventh in the 2002 ASA points standings, with a best finish of 3rd at Five Flags Speedway and the Minnesota State Fair Speedway.
20 years after his lone full season with ASA, Fredrickson considers his time with ASA one of his favorite career moments.
"That was really a highlight of my racing career. I was pretty young back then and for the most part, it went really well. It set the tone for the rest of my career. ASA was the top level before you went to NASCAR. Even just having that one good year under my belt really made racing life easy for me for a long time as far as getting parts and deals and building up my own team, and having some sort of name to lean on."
His time behind the wheel has decreased during the past few years to focus on his son Ty's racing career. Together, father and son have spent much of the winter competing and winning Legend Cars races in the Southeast. Once Mother Nature cooperates in the Midwest, the younger Fredrickson will jump into a Limited Late Model for his first foray in a full-sized car.
With his son's busy racing schedule, the older Fredrickson's racing schedule will be trimmed down to just a few races in 2023 and he would not want it any other way.
"We've been winning those Legend Car races down south the last month or so. It's been a lot of fun. His Late Model is ready to go as soon as the weather is better here in the Midwest. That's definitely going to be my focus from here on out. I'll race four or five times a year and then transfer everything over to him when he becomes ready. He probably won't race a Super Late Model this year, he just turned 14, but it'll be here soon enough.
"It (Ty's racing) has really revitalized my love for the sport," he continued. "I've been around the sport long enough that I'm kind of sick of it, but this has really stoked the fire."
Fredrickson is a former winner of the Joe Shear Classic in its inaugural event in 2008 and he believes the Madison track suits him well. With the same team that has taken him to four Oktoberfest wins (LaCrosse Fairgrounds Speedway), 16 Midwest Tour wins and two series championships, he feels good about his chances come Sunday afternoon.
"I think it'll be fun. We've always run pretty good there. We won this race years ago and we've led a lot of laps and finished with a lot of podiums. I think we can do well. I don't race that much anymore so I'm not as confident as I am when I'm racing 20 times a year, but I think we'll be good. We've got a good car, a good motor, the same guys we've always had so we should be good."
The Joe Shear Classic 200 will mark race two of the inaugural ASA STARS National Tour schedule, set for 2:00PM CT on Sunday, May 7. Advance tickets are available by visiting the track website at misracing.com/tickets, or at the track office during regular business hours. Madison International Speedway is located ten minutes south of Madison, on Sunrise Road off of Highway 138 between Oregon and Stoughton.
The Joe Shear Classic will be live-streamed on Racing America, MidwestTour.tv and TRACKTV.com. MAVTV will air the event on Monday, May 15 at 8pm ET.
The ASA STARS National Tour opened the ten race, six-state schedule at Five Flags Speedway in Pensacola, FL on March 11. Georgia racer Casey Roderick won the Sunshine State 200.
For the full ASA STARS National Tour schedule, plus Super Late Model rules and other information, please visit the series website at starsnationaltour.com, or be sure to follow the series on social media (Facebook: STARS National Series | Twitter: @racewithstars | IG: @starsnational).
---
ASA STARS National Tour
The ASA STARS National Tour debuted in March of 2023 for Super Late Model racing in America. Announced last October, many of the best drivers in America will compete in the ten-race national tour with a minimum $100,000 point fund. The championship team will be guaranteed $25,000.
The ASA STARS National Tour is made up of three races from each of the regional pavement Super Late Model Series under the Track Enterprises banner; the ASA CRA Super Series, the ASA Midwest Tour and the ASA Southern Super Series.
The Team Construction Winner's Circle program has been announced as a part of the ASA STARS National Tour for licensed drivers/teams with perfect attendance. The program provides additional financial incentives to those teams who support the Series, thanks to Team Construction.
Track Enterprises, a Racing Promotions Company based in Illinois, will operate the ASA STARS National Tour. It announced the acquisition of the CRA sanctioning body in January and followed that up with the purchase of the Midwest Tour in July. In October, Track Enterprises President, Bob Sargent announced a partnership with the Southern Super Series which set the table for the formation of the ASA STARS National Tour.