Former ASA Midwest Tour Champion Joins Go Fas Racing For Joe Shear Classic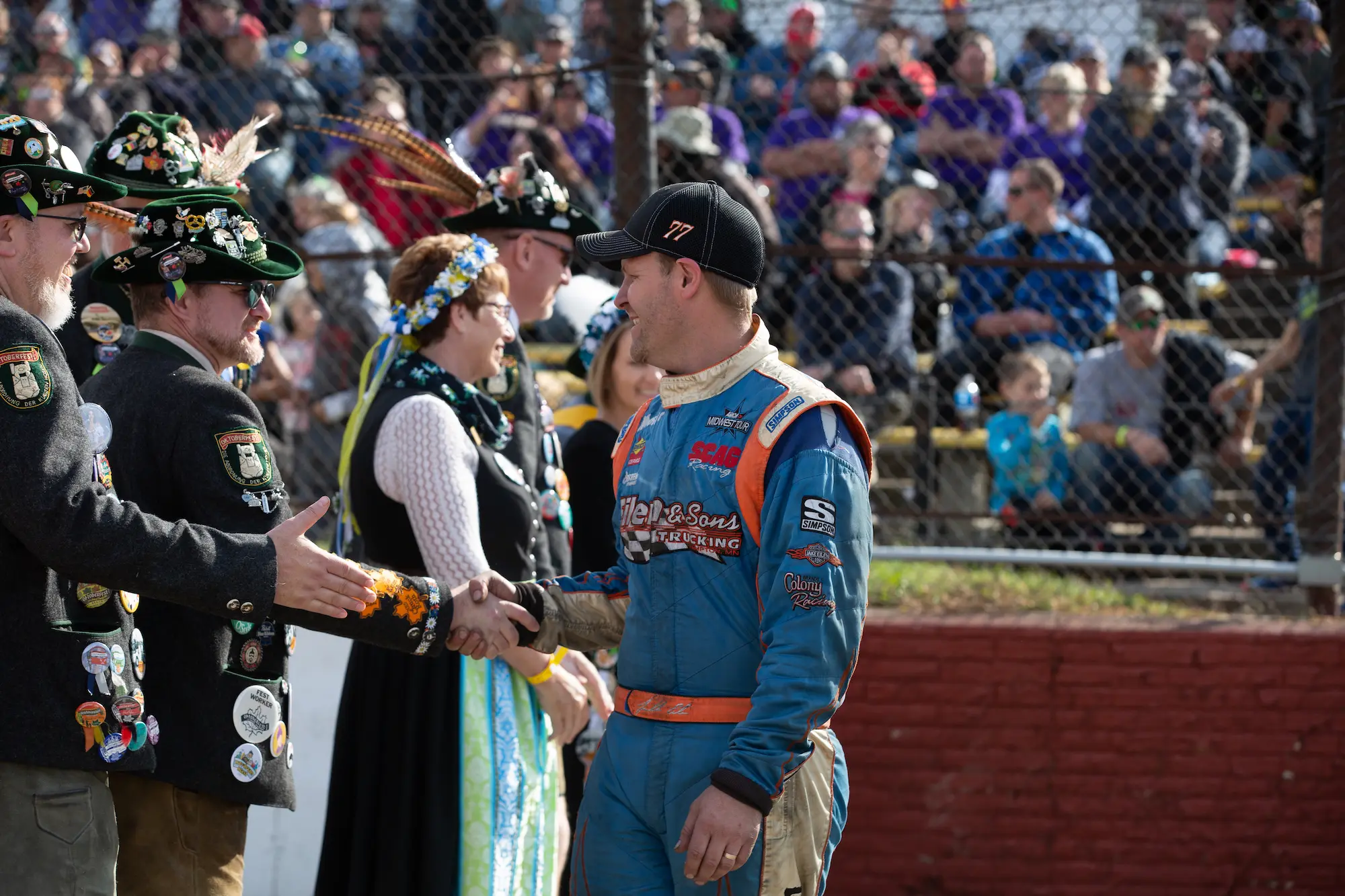 Go Fas Racing is entering the first four ASA STARS National Tour races of the 2023 season, with NASCAR Craftsman Truck Series driver Grant Enfinger taking the reigns at Five Flags Speedway and the two North Carolina events. Team owner Archie St.Helaire went to the Midwest to find his driver for the Joe Shear Classic at Madison International Speedway – 2012 ASA Midwest Tour champion Jonathan Eilen.
Eilen is a former winner at Madison, with wins coming in a Twin 50-lap Alive For Five Super Late Model race in May 2019, and in a Mid-American Stock Car Series race in 2005. After a friendly word to St.Helaire from Toby Nuttleman, he now joins Go Fas Racing for the Joe Shear Classic.
"Our original plan was to do the first four races and see where we're at in points. Grant (Enfinger) was running Pensacola, North Wilkesboro and Hickory, and I was going to do the second race. We're teaming up with him and doing what some of these other guys are doing," said Eilen. "We're splitting some of the races, it works out better for one guy at one place and one guy at another. We're playing it by ear and going from there."
The 2022 season was Eilen's best with the Midwest Tour since 2014, finishing third in the final points standings and winning the Larry Detjens Memorial at State Park Speedway. That win at the Wausau, WI quarter-mile was his first with the series since a 2013 triumph at Grundy County Speedway, and his first win in a Super Late Model since the Madison victory in 2019.
"We had gone so long and had been so close so many different times but we were always on the other end of it. Casey and Ty got into the incident and it seemed like that was always my luck over the years. We would be so close we could taste it but something happened while leading, or we'd get taken out. Finally one of them went our way. It's one of them things where you go on them spurts. You can win all the time and then all the sudden you get into a lull. It's hard to stay on top but it's also hard just to get there."
Eilen has been a mainstay with the Midwest Tour dating back to the series' inception in 2007. Out of the series' 172 races that have been contested, he's started in all but 20 of them.
However, the 2023 season will see Eilen take a step back from the wheel to a part-time schedule to focus on his son's racing efforts in and around his home state of Minnesota.
"I started with the Midwest Tour in 2007 and really the only time I broke my back at Cedar Rapids in a Midwest Tour race in 2010 and missed half the season. I've done it every year. This year with my kid racing I decided not to fully commit and just run some here and there. When this deal with Archie came along here I thought what the heck, let's try it out and see how it is."
With the part-time schedule, he admits that it may make being competitive a little bit harder due to not getting behind the wheel every weekend.
"We'll run a part-time schedule to where we're not so locked down. I didn't want to necessarily step away from racing altogether, but I didn't want to do something that took a lot of commitment so we'll do a handful of them. The downside to that is you're getting behind the eight-ball when you're not at the track racing as much. Toby and Justin help me out, I'm getting a lot of advice from those guys with where to go and where to be."
The Joe Shear Classic 200 will mark race two of the inaugural ASA STARS National Tour schedule, set for 2:00PM CT on Sunday, May 7. Advance tickets are available by visiting the track website at misracing.com/tickets, or at the track office during regular business hours. Madison International Speedway is located ten minutes south of Madison, on Sunrise Road off of Highway 51 between Oregon and Stoughton.
The Joe Shear Classic will be live-streamed on Racing America, MidwestTour.tv and TRACKTV.com. MAVTV will air the event on a tape-delayed basis.
The ASA STARS National Tour opened the ten race, six-state schedule at Five Flags Speedway in Pensacola, FL on March 11. Georgia racer Casey Roderick won the Sunshine State 200.
For the full ASA STARS National Tour schedule, plus Super Late Model rules and other information, please visit the series website at starsnationaltour.com, or be sure to follow the series on social media (Facebook: STARS National Series | Twitter: @racewithstars | IG: @starsnational).
---
ASA STARS National Tour
The ASA STARS National Tour debuted in March of 2023 for Super Late Model racing in America. Announced last October, many of the best drivers in America will compete in the ten-race national tour with a minimum $100,000 point fund. The championship team will be guaranteed $25,000.
The ASA STARS National Tour is made up of three races from each of the regional pavement Super Late Model Series under the Track Enterprises banner; the ASA CRA Super Series, the ASA Midwest Tour and the ASA Southern Super Series.
The Team Construction Winner's Circle program has been announced as a part of the ASA STARS National Tour for licensed drivers/teams with perfect attendance. The program provides additional financial incentives to those teams who support the Series, thanks to Team Construction.
Track Enterprises, a Racing Promotions Company based in Illinois, will operate the ASA STARS National Tour. It announced the acquisition of the CRA sanctioning body in January and followed that up with the purchase of the Midwest Tour in July. In October, Track Enterprises President, Bob Sargent announced a partnership with the Southern Super Series which set the table for the formation of the ASA STARS National Tour.