Double Features and Season Championships on Friday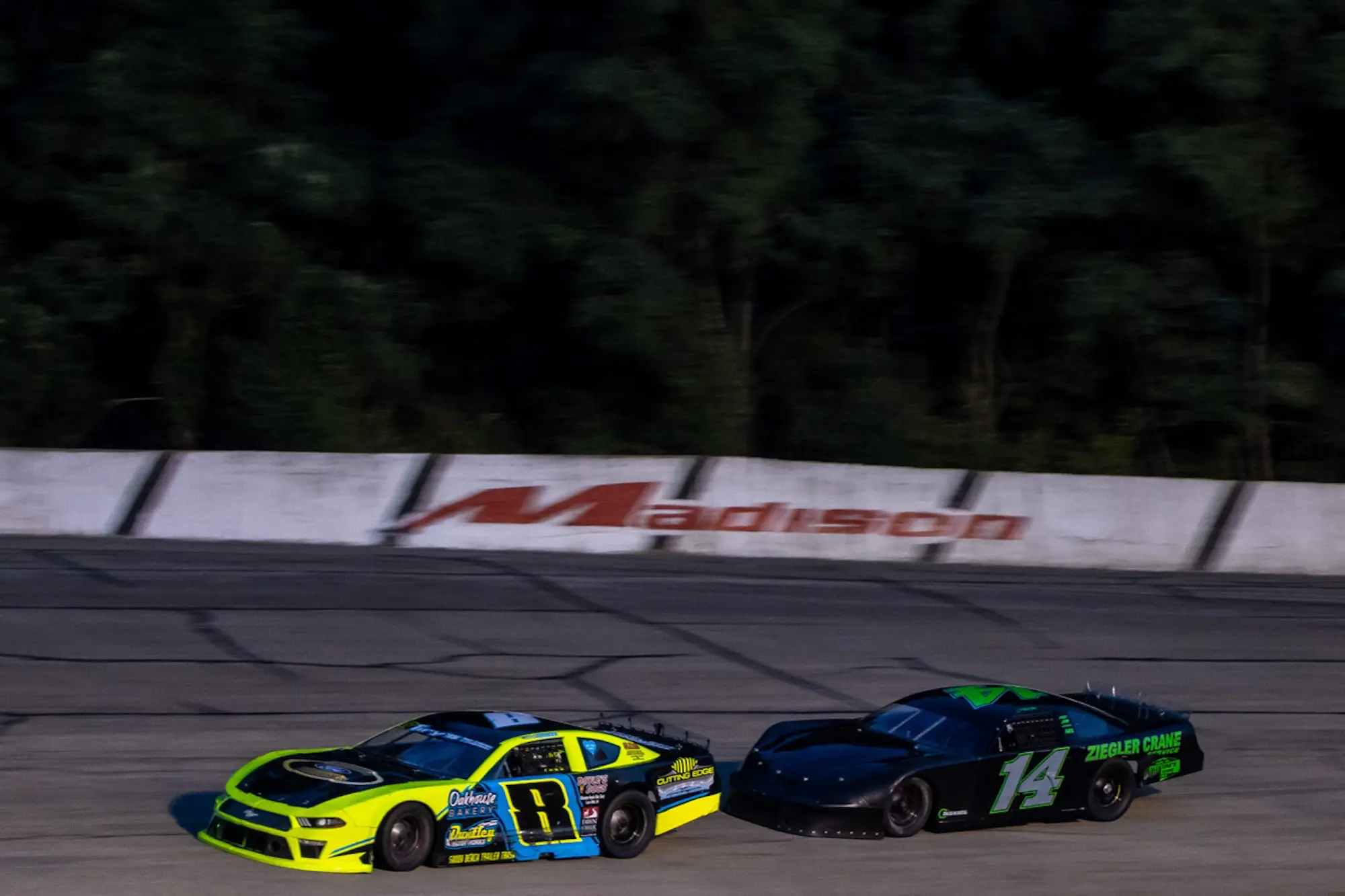 It's Season Championship Night at Madison this Friday with double features on tap in four divisions. Track championships will be determined in the Late Models and Dave's White Rock MISfitz plus the Roto Rooter 6Shooters and High School Racing Association will also be in action. The annual Racers' Reunion will also take place on Friday night after being rescheduled from July 28th.
Bonus money is also on the line as it's possible for a Late Model driver to win $2500 this Friday night as each feature will pay $1000 to the winner plus the driver with the best combined finish will earn a $500 bonus. The bonus comes compliments of Al's Dayton Place located on the banks of the Sugar River in downtown Dayton, Wisconsin.
Defending and four time Madison champion Zack Riddle is the current points leader in the Late Model division. Riddle is hoping to add to his previous track championships in 2015, 2018, 2021, and 2022. Powered by four feature wins in 2023, he leads the points race with 542 followed by Riley Stenjem (474), Bobby Wilberg (457), Shaun Scheel (415), and Brent Edmunds (384). Stenjem is the only other Late Model driver to pick up a feature win this year. If Riddle can hold off his fellow competitors, a track championship would tie him with Wilberg who has five Late Model titles coming in 2007, 2008, 2016, 2017, and 2019. Four other drivers, Rick Nelson (1994, 1997, 1998), Jeremy Miller (2006, 2009, 2010, 2011), Dale Nottestad (2012, 2014), and Dave Phillips (1984, 1992) are multi-time champions in the division that has been previously known as Sportsman and Limited Late Models and dates back to 1981.
Dave Edwards has a slight lead over Dan Snyder (480-473) in the Dave's White Rock MISfitz. Mason Hellenbrand (457), Chris Wangrow (400), and Justin Sellers (398) round out the top five. The 2023 champion will be the fourth in the history of the division with Edwards (2019) and Ray Hellenbrand (2021, 2022) being previous winners. This year Edwards has a pair of feature wins with Snyder, Mason Hellenbrand, and Tanner Berge also taking home wins. Snyder is looking for his third track championship after wins in 2014 and 2015 in the Bandits division.
Al's Dayton Place is also offering a $350 bonus for the top overall finisher in both features…tie breaker based on best finish in second feature
With double features on tap, the points chase can really take a swing. For both the Late Models and MISfitz, a clean sweep is worth 215 points (15 points for qualifying / 100 points per feature).
The Roto Rooter 6Shooters will see a $150 bonus thanks to Al's Dayton Place to the top overall finisher in both of their feature races. The 6Shooters are yet to see a repeat winner this year with Dylan Klinger, Trevor Chilson, Robert McKeown, Josh Morris, and Ken Morris winning earlier this season.
The High School Racing Association (HSRA) will be making their third stop at Madison in 2023 with three feature races already in the books. Jackson Martindale, Kennedy Krueger, and Mitchell Berg going home with checkered flags. Martindale represents the Stillman Valley (Illinois) Cardinals while Krueger and Berg race for the Melrose-Mindoro (Wisconsin) Mustangs. The best overall finisher in the combined two feature events this week will win a $100 gift card compliments of Madison International Speedway.
Times
3:30 Pit Gates Open
4:15 Turn One Chapel
5:00 Practice
6:00 Grandstands Open
6:15 Qualifying
7:25 Opening Ceremonies
7:30 Let's Go Racing!
Tickets
Adults $15.00
Seniors / Heroes $12.00
Students 12-17 $8.00
Kids 6-11 $5.00
5 and Under Free
Pellitteri Waste Systems Family Ticket $30.00 (Good for two adults and up to four students / kids)