Double Features and Racers' Reunion this Friday Night at Madison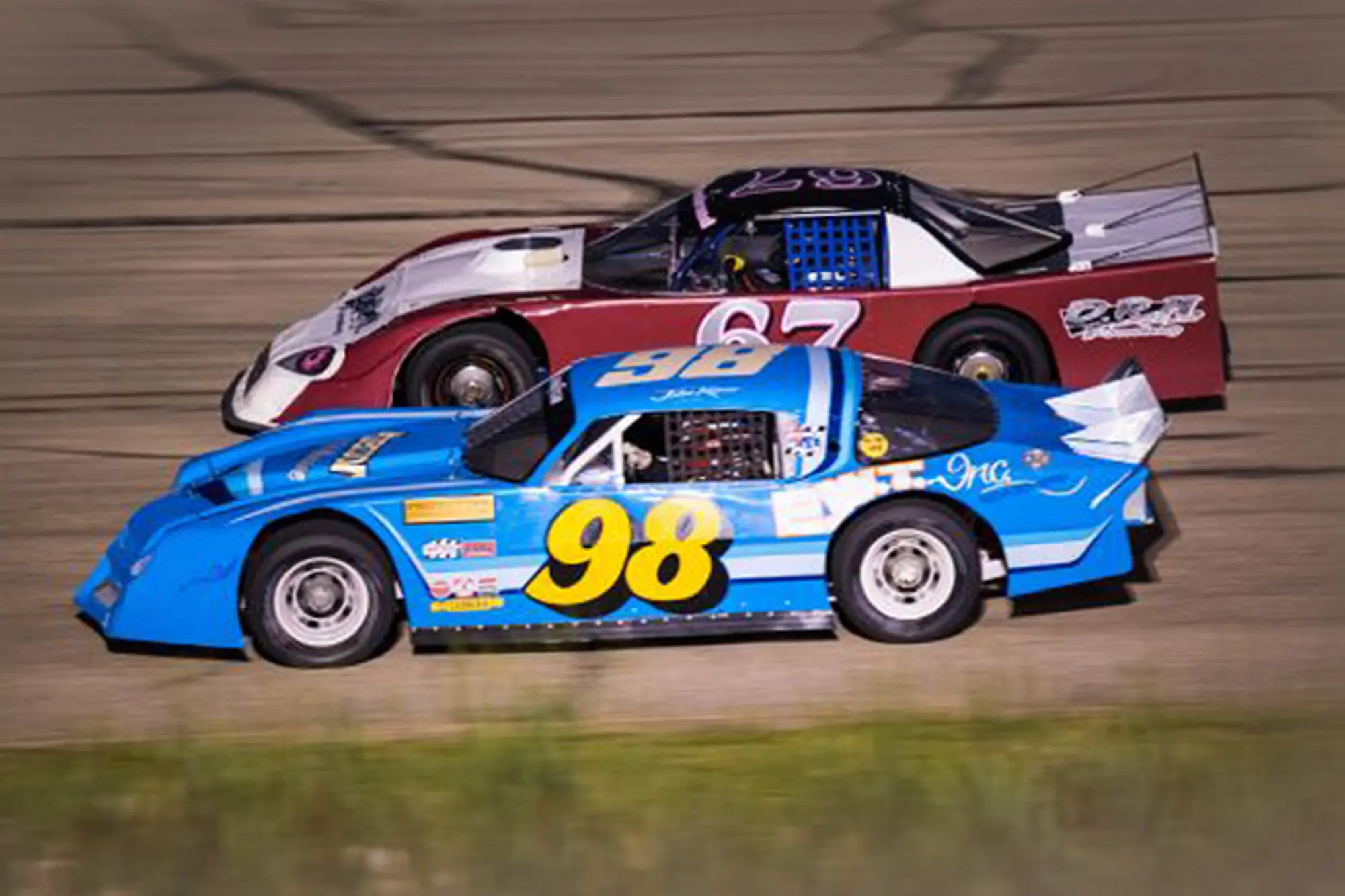 This Friday night Fink's Paving of Mt. Horeb presents Racers' Reunion Night and exciting racing action in four divisions. The racing program will be highlighted by double features for the Late Models, Dave's White Rock MISfitz, and the Roto Rooter 6Shooters plus the Upper Midwest Vintage Racing Series make their annual trip to Madison.
The run for the track championship is quickly coming down to the wire with only one more night on the 2023 schedule after this week for the Late Models and MISfitz on August 18th. Zack Riddle (Late Models) and Dave Edwards (MISfitz) are the current point leaders. The 6Shooters do not maintain point standings.
Once again drivers in the Late Model division will be battling it out for $1000 to win each feature. Drivers from throughout the region are invited to take on Wisconsin's Fastest Half-Mile. As always, Midwest Trucks, Mid American Stock Cars and 602 Late Models are eligible(see rules at website) to race with our MISfitz in preparation for their upcoming races in August.
The Upper Midwest Vintage cars will also be in action with a variety of great looking machines including several tribute cars to the stars of the past.
This Friday night will also be our annual Racers' Reunion with former drivers from Oregon Legion Speedway, Capital Speedway, Capital Super Speedway, IMPACT Speedway, and Madison International Speedway all invited for a night of reminiscing. All former drivers will be admitted free by registering at Reunion Registration. Feel free to bring any memorabilia and stories to share with the fans. Former drivers in attendance will also be able to go on-track to greet the current racers.
Point Leaders
Late Models: Zack Riddle (542), Riley Stenjem (474), Bobby Wilberg (457), Shaun Scheel (415) and Brent Edmunds (384)
MISfitz: Dave Edwards (480), Dan Snyder (473), Mason Hellenbrand (409), Chris Wangrow (400), Justin Sellers (398)
Feature Wins
Late Models: Zack Riddle (4) Riley Stenjem (1)
MISfitz: Dave Edwards (2), Dan Snyder (1), Mason Hellenbrand (1) Tanner Berge (1)
6Shooters: Trevor Chilson (1), Robert McKeown (1), Dylan Klinger (1), Josh Morris (1),
Times
3:30 Pit Gates Open
4:15 Turn One Chapel
5:00 Practice
6:15 Qualifying
7:25 Opening Ceremonies
7:30 Let's Go Racing!
Pricing
Adults $15 / Seniors and Heroes $12 / Students 12-17 $8/ Kids 6-11 $5 / Five and under Free / Pellitteri Waste Systems Family Ticket good for two adults and up to four students / kids is just $30
Upcoming Events
August 4th: LIUNA Local 464 Kids' Night with Big 8 Late Models, Mid American Stock Cars, and 602 Late Models. Free admission for kids 11 and under plus bike, big wheel, and power wheel races
August 10th: One on One Street Drags
August 11th: Third Annual Cheese Curd Cup featuring Sportsman, Hobby Stocks, Midwest Dash, 6Shooters, Bandits, and Bandoleros on the Ring of Fire
August 18th: Season Championship Night with double features in all divisions: Late Models, MISfitz, 6Shooters, and HSRA
August 25: ASA Midwest Tour Howie Lettow Classic 100 plus Midwest Trucks and Fireworks