𝟯𝟯 𝗠𝗶𝗱𝘄𝗲𝘀𝘁 𝗧𝗿𝘂𝗰𝗸 𝗦𝗲𝗿𝗶𝗲𝘀 𝗗𝗿𝗶𝘃𝗲𝗿𝘀 𝗘𝘅𝗽𝗲𝗰𝘁𝗲𝗱 𝘁𝗼 𝗞𝗶𝗰𝗸 𝗼𝗳𝗳 𝟮𝟬𝟮𝟯 𝗮𝘁 𝗠𝗮𝗱𝗶𝘀𝗼𝗻
After being forced to wait an additional month, 33 Midwest Truck Series competitors are expected to roll through the gates at what is shaping up to be one of the most exciting Joe Shear Classic events at Madison International Speedway.
Last season fans were treated with an intense side by side battle between Kevin Knuese and Bryce Miller with Knuese coming out on top at the line in a photo finish. The win gave Knuese his 3rd win at MIS tying him for second in MIS wins with James Swan (Modern Era). Chester Ace has 5 wins at MIS with his latest just one year ago at the Howie Lettow Memorial in August.
Will someone new end up in victory lane or will it be another experienced veteran claiming MIS as their own? Find out when we join the ASA STARS National Tour Sunday May 7 at Madison International Speedway. #LetsGoTruckin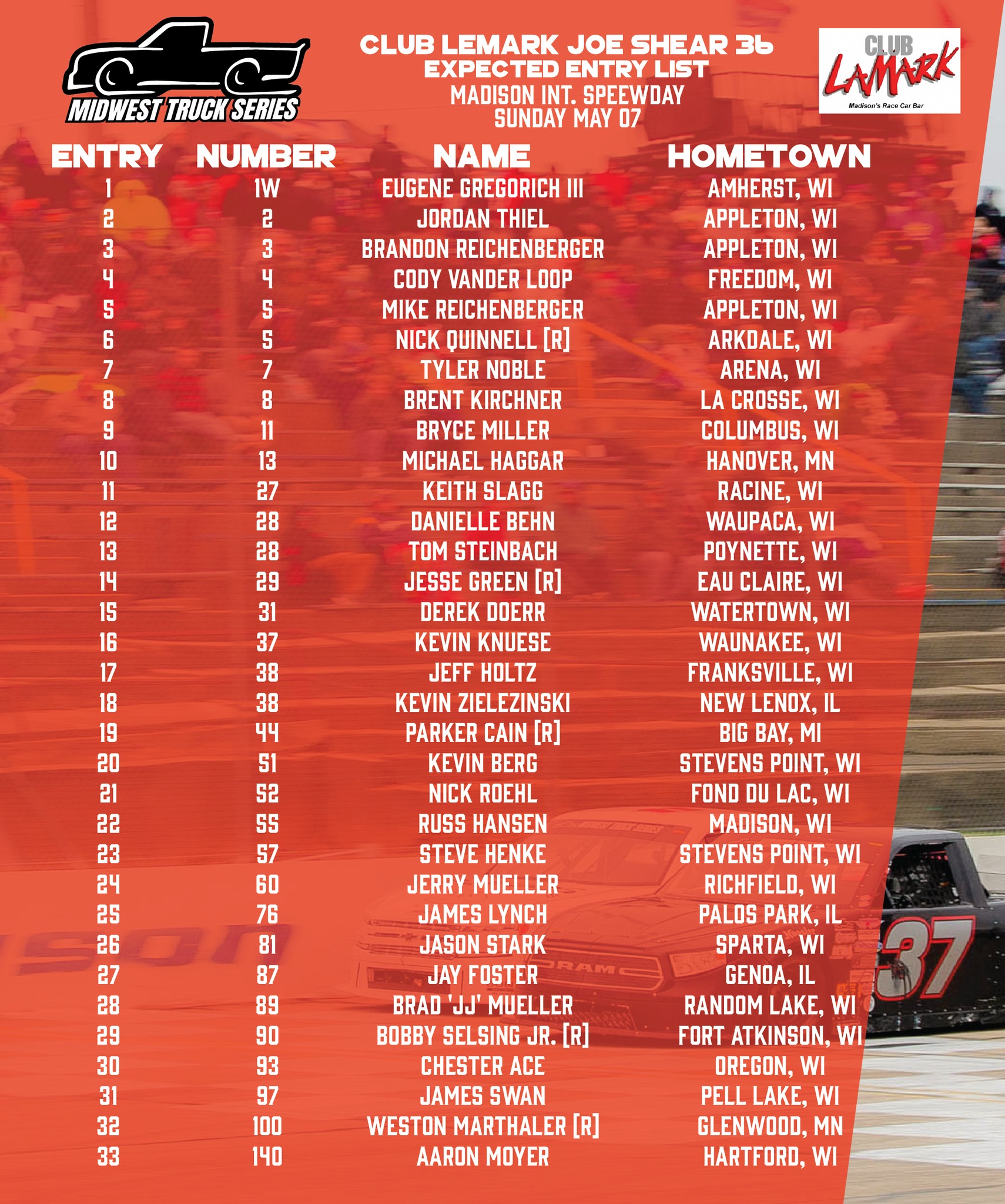 Midwest Truck Series Joe Shear Classic Winners: (2010-Present)
2010 – Jerry Wood
2011 – Bobby Wilberg
2013 – Jerry Wood (2x)
2015 – Tommy Pecaro
2016 – Chester Ace
2017 – Kevin Knuese
2018 – James Swan
2019 – Jerry Brickner
2021 – Tristan Swanson
2022 – Kevin Knuese (2x)
All Time Madison Wins (2010-present)
All Time Wins
5 – Chester Ace
3 – James Swan
3 – Kevin Knuese
2 – Jerry Wood
2 – John Wood
1 – Austin Luedtke
1 – Bobby Wilberg
1 – Dan Jung
1 – Dan Lensing
1 – Dave Edwards
1 – Jerry Brickner
1 – Levon Van Der Geest
1 – Michael Raskovic
1 – Nick Egan
1 – Todd Kluever
1 – Tommy Pecaro
1 – Tristan Swanson